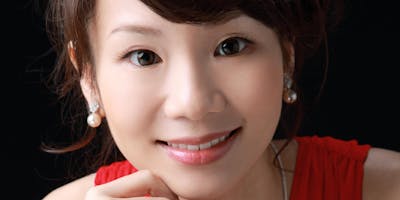 Inspired by Jazz: Ravel, Gershwin, and Piazzolla with Gloria Shih, piano and Marc Levine, violin
Gloria Shih, piano, and Marc Levine, violin
present
Inspired by Jazz: Ravel, Gershwin, and Piazzolla
$15 | $5 Students

Duo partners Gloria Shih, piano and Marc Levine, violin play works inspired by Jazz from Ravel's violin sonata with its great jazz movement and Piazzolla's Grand Tango to solo works for each of their instruments by Gershwin and Piazzolla. A new matching art exhibit by New York painter Jenny Lin will be on display.
PROGRAM (to include)
Gershwin - Three Preludes for Solo Piano
Piazzolla - Tango Etudes 1-3
Grand Tango
Ravel - Violin Sonata No. 2
Born in Taipei, Taiwan, Gloria Shih is recognized as one of the most talented pianists of her generation. She won her first piano competition at age of eight, and she has subsequently received several awards including First Prize in the Taipei Piano Competition, Second Prize in Taipei chamber music competition, and First Prize in the Schimmel Piano Competition.  Ms. Shih earned her Bachelor's degree at Soochow University as a protégé of the renowned Se-Se Chang, and has appeared in numerous solo and chamber music performances throughout Taiwan.  Having earned her Master's degree as a scholarship student under Lilian Kallir at the Mannes College of Music, she received a full scholarship to study with Christina Dahl at Stony Brook University.  Ms. Shih holds a Doctor of Musical Arts degree from Stony Brook University.
Dr. Shih has participated in master classes of such distinguished artists as Leon Fleisher, Pascal Devoyon, Yoheved Kaplinsky, Claude Frank, Gilbert Kalish, Seymour Lipkin, Vladimir Feltsman, Jane Coop, Diane Walsh, Boris Lavof, Menahem Pressler, the Orion String Quartet, and Emerson String Quartet.
Dr. Shih, the pianist of Gracieux Trio, has worked with members of the Emerson String Quartet, members of the Meridian Arts Ensemble, and members of the Metropolitan Opera.  Her performances have included ones at venues such as Carnegie's Weill Hall, Merkin Hall, and Oji Hall in Tokyo.   She has received critical acclaim for her performances throughout Asia, Europe, and North America, including engagements in Philadelphia, North Carolina, Westchester, California, Maine, Maryland, Oregon, England, Japan, and South Korea.
Dr. Shih serves on the faculty of Hofstra University and is the director of the Majors program at the Children's Orchestra Society.
Marc Levine enjoys a career as a chamber musician and orchestral leader specializing in performances on both modern and baroque violin. On baroque violin, Marc performs with his chamber ensemble, Flying Forms, that, in addition to performing standard and contemporary repertoire, also presents larger scale programs including oratorios and operas. In Saint Paul, Minnesota, where he is based, Marc regularly appears as leader or section member with the Bach Society of Minnesota, Oratory | Sacred Bach, Consortium Carissimi, and the Lyra Baroque Orchestra. On modern violin, Marc performs chamber music from all eras on various series and with groups including the Lowertown Piano Trio (founding member), Minnesota Bach Ensemble, Minneapolis Music Company, and the MacPhail Spotlight Series. With many of these groups, both recorded and live, Marc has been featured many times as a soloist and ensemble player on Minnesota Public Radio. A noted entrepreneur, Marc co-founded The Baroque Room, a performance space in downtown Saint Paul that hosts over 50 events each year including the Saint Paul Classical Music Crawl, an event featuring the entire city's classical music scene and named one of the top ten classical music events of 2015 by the Saint Paul Pioneer Press.

Marc has recorded for Early Music New York on the Ex Cathedra label and with Flying Forms on a disc of new music written for the group by composer Nissim Schaul. A prizewinner in the 2008 American Bach Soloists International Competition for Baroque Violin, Marc has played with many noted early music ensembles around the United States and, on both baroque and modern violin, has performed at venues including Carnegie Hall, The Metropolitan Museum of Art, The Kennedy Center, Symphony Space, Merkin Hall, (le) Poisson Rouge, Yale University, and Orchestra Hall (Minneapolis). In addition to work with Flying Forms as a performer of contemporary music, Marc has been a member of the Pittsburgh New Music Ensemble, performed and recorded with the Center for Contemporary Opera (New York), Etc. Gallery (Chicago), and regularly collaborates with Saint Paul's own Zeitgeist.

As an educator, Marc speaks, coaches, and presents lecture recitals at universities on baroque performance practice and entrepreneurship. He has also appeared as a pre-concert lecturer for the Saint Paul Chamber Orchestra's Fanfare program. With Flying Forms, Marc has worked with students at Lawrence University, the University of Wisconsin (Eau Claire), Dickinson College, Concordia University, and the University of Minnesota, among others. Also with the group, Marc has held residencies with Minnesota Youth Symphonies and Minnesota Public Radio where he has coached, performed for and with pre-college students. Along with private individual instruction, Marc is on the faculties of the Saint Paul Conservatory of Music and MacPhail Center for the Arts.

Marc received Bachelor and Master of Music degrees from Indiana University and a Doctor of Musical Arts degree from Stony Brook University. He has studied with Franco Gulli, Pamela Frank, Ani Kavafian, the Emerson String Quartet, Sigiswald Kuijken, and Marc Destrubé, among others. Marc plays on a Giovanni Pistucci violin and a Douglas Cox baroque violin.