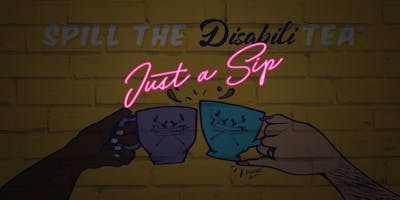 Just a Sip: A taste of disability justice
Too often, conversations about disability are framed in terms of compliance. What if instead, we could explore what it means to work from a frame of disability justice? "Just a Sip" is a taste of Alex Locust's workshop "Spill the Disabili-Tea" - a community building experience centered around disability justice. Whether talking about disability is all too familiar or feels completely foreign, join us for "Just a Sip" to hear personal stories from Alex, a self-proclaimed "Glamputee" as Manny interviews him about his experiences advocating for disability justice in the Bay Area. Alex will share about the basic tenants of the disability justice framework (proposed by Sins Invalid) and provide a sampling of his workshop exercises (such as "what language to use regarding disabilities" or "what microaggressions do disabled folks experience?" and most importantly "how do I respond to microaggressions as a person with a disability?") We'll follow up with a Q&A session for a candid exploration of being disabled in the queer community, navigating accessible and inclusive community organizing practices, and what Beyoncé music video Alex would recreate if he had the money (and time).


We welcome the opportunity to make the space more accessible! Space is wheelchair accessible and we are encouraging a scent free environment (please refrain from wearing scented products). Other accommodations may be possible upon request. Please submit requests to alex@glamputee.com by Saturday, May 11th.