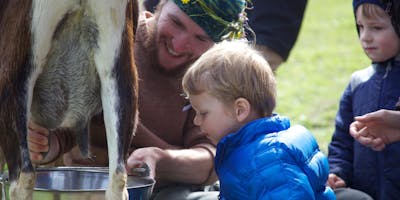 Toddler Day 4 at Slide Ranch - May 25
Toddler Day: A popular day at the farm for families with toddlers and babies!
Fee: $30 per person, children 23 months and under are free
If this event is sold out, join the waitlist here.
This festive day will be an imaginative wild rumpus, where we invite you to wiggle like a worm, buzz like a bee and maaaaahhh like a goat.  Take part in treasure hunts, face painting, garden snack-making, and interactive story-telling, and enjoy time with your family and all the Slide Ranch animal and plant friends.
Each Toddler Day is from 9:30am - 12:00pm.
More dates may be added - please join our mailing list to receive all the latest updates!