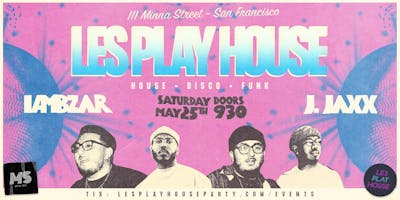 Les Play House w/ J. Jaxx & IAMBZAR
Les Play House!
We are back at it and bringing you San Francisco's most popular House, Disco and Funk Party, Les Play House. Saturday, May 25th we will be running it back with our 2nd party of the year featuring J. Jaxx and special guest, DJ/Producer, IAMBZAR.
Performers:
J. Jaxx:
Born in Vallejo, California, and still residing in the Bay Area, J. Jaxx is a DJ and Producer who combines his passion for music and style to create experiences through sound and visual content.
Beginning his career in 2014, J. Jaxx's versatility in House, Dance, Funk, Hip-Hop, R&B, and Electronic music, has allowed him to transition from playing intimate shows at local bars to playing in larger venues including the main stage at one of San Francisco's most popular, 1015 Folsom, along with many others. Within a year, J. Jaxx has become a member of the DJ and Producer label, Move Set Records, and has put out multiple well received projects such as mixes: Cruise Control, Les Play House Vol. I & II, No Sleep and a Slow Edit EP titled Space City. He has also shared the same stages as Sam Gellaitry, George Clinton, Jacquees, Noodles and Soulection's Sango, Andre Power, and SoSuperSam. J. Jaxx is also the founder/creator of Les Play House.
++
IAMBZAR:
IAMBZAR has made a name for himself as a producer and DJ in places beyond his home of the Bay Area. Not only having toured Malaysia with record label, Saturday Selects, IAMBZAR has successfully released remixed songs, 'badbadnews' and 'besos', and had his music heard by thousands with multiple features on Soulection Radio while still tackling live shows with Andre Power, Jael, J Robb, Yung Bae, and notorious house DJ, Promnite. Catch IAMBZAR headlining with fellow hometown powerhouse, J. Jaxx, for Les Play House at Minna Gallery in San Francisco, on May 25th.
++
Support From:
Asilo (Move Set Records)
Terrxnce Jordxn
illusive
MUSUBI
111 Minna Art Gallery
Doors at 9:30PM
FREE W/ RSVP (BEFORE 10PM) - AFTER 10PM TICKETS ARE $20 AT THE DOOR.
ONLY 500 RSVP'S AVAILABLE
21+
Sales are non-refundable.