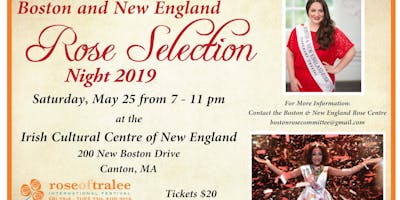 Rose of Tralee
The Rose of Tralee International Festival is a five day festival held in Co. Kerry,  attracting some 200,000 visitors from all over Ireland and the world. Contestants come from each county of Ireland as well as girls of Irish descent from as far a field as New York, Boston and Australia, to compete for the title of The Rose of Tralee. It's a little like a Miss World competition but much more wholesome.

The festival hits prime time television in Ireland and is watched by nearly a million people, while in Tralee itself a carnival atmosphere prevails as the Roses are paraded on floats through the streets accompanied by open air concerts.
We hope you will join us at the Boston and New England Rose Selection night.
All Roses will be interviewed on stage in the ICC Marquee tent.  Some will dance some will sing.
It is always a really entertaining night.
Come find out which one of these lovely ladies will be selected as the 2018 Boston & New England Rose!
Tickets are $20