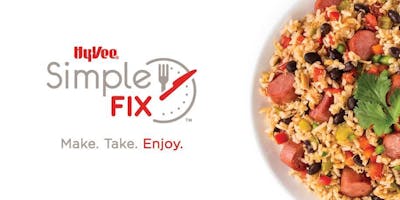 Healthy Spring Meals Simple Fix Meal Prep Workshop
Menu:

Apricot BBQ Chicken Wings
Chipotle Cheddar Burgers
Grilled Hawaiian Chicken
Slow Cooker Lemon Chicken
Cool Ranch Shredded Chicken Tacos
We shop. You prep. We clean up. In under an hour and a half, you can prep 5 meals to take home, put in the freezer and make at a later date. Each meal serves 4-6 people. Bring a cooler or tote to carry your meals home. Class will be held in the Market Grille Express.
Price includes groceries, space for workshop, equipment, storage bags for meals, and clean up!
Must register  in advance by Tuesday, May 21st.
Class is held in the Market Grille Express.

Please contact Emily McMillan, MBA, RD, LD at 1548dietitian1@hy-vee.com with any questions.
*Cancellation Policy: Any event cancellation must be received by e-mail at least 48 hours in advance of the scheduled event time to receive a refund. All event cancellations, questions or concerns should be sent to Emily McMillan, MBA, RD, LD at 1548dietitian1@hy-vee.com. We reserve the right to cancel any event due to dietitian illness or lack of registrations, in which case a full refund will be provided.*