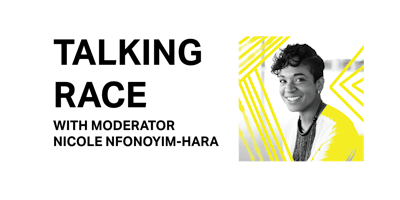 TALKING RACE: An Artist Discussion Series w/ Nicole Nfonoyim-Hara
TALKING RACE: An Artist Discussion Series With Host Nicole Nfonoyim-Hara
Friday,  May  3rd  | 6:00 pm  |  kyong juhn
Saturday,  May 18th  |  3: 00 pm  |  Shah Noor
Friday,  May 24th  |  12:00 pm  |  Bobby Marines
Join the Rochester Art Center and host Nicole Nfonoyim-Hara for a timely and in-depth discussion series about race, art and navigating the current landscape as a professional artist. Featured artists include kyong juhn, Shah Noor and Bobby Marines, each engaging the audience in their own separate evening of discussion.

About the Host:
Nicole Nfonoyim-Hara
Nicole is a writer and anthropologist committed to community building and storytelling. She is host and associate producer of R-Town, on KSMQ. Her research and work have taken her around the country and the world. She is a 2017 recipient of a Minnesota State Arts Board Artist Initiative Grant in Prose, a 2016-2017 Loft Literary Center Mentor Series participant, and was previously a fellow with the Givens Foundation for African American Literature. Her short stories have been published in Joyland Magazine and The Offing. Nicole holds a B.A. in anthropology/sociology from Swarthmore College and a master's degree in migration studies from the University of Oxford, England.
About the Artists:
May 3 | kyong juhn
kyong juhn is a Korean-American walker, photographer, and community advocator. In 2017, kyong was awarded an Advancing Artist grant from the Southeast Minnesota Arts Council for "Walk for Hope & Peace: from 39.0221 N—35.1046 N to 44.0121 N—47.5972 N, 323." The photographs, stories, and people of Minnesota that she captured during her walk project were presented at the recent exhibition, Walk for Hope & Peace, at the Rochester Art Center.  
May 18 | Shah Noor
Shah Noor Shafqat has an MFA in Visual Communication from the University of Arizona. She has a BFA in Textile Design from the National College of Arts, Lahore, Pakistan. Her digital art work for Android and iOs is available for download, including Tap Mall, Blood Brothers, Puzzle Fantasy and Fatal Frontier.
May 24 | Bobby Marines
Bobby Marines is an interdisciplinary, Mexican-American artist living in Rochester, MN. He currently sits as president of C4 (Concerned Citizens for a Creative Community), and is the founder of Art Blitz and Robé Art Blitz, creativity festivals operating in Texas and Minnesota. His work will be shown at the upcoming Mind Matters exhibition at the Rochester Art Center.
Funding for this series provided by the Science Museum of Minnesota supported by "RACE: Are We So Different?" This activity is also made possible by the voters of Minnesota through a Minnesota State Arts Board Operating Support grant, thanks to a legistative appropreation from the arts and cultural heritage fund.