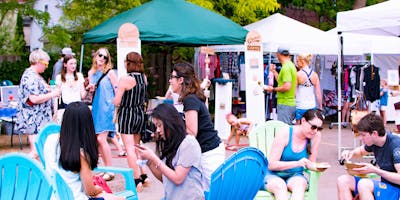 Linden Hills Farmers Market 2019 (all dates)
This page is for approved Minneapolis Craft Market traders only. If you are an artist wishing to participate in the market, please apply via our website at http://www.mplscraftmarket.com
Minneapolis Craft Market coordinates craft vendors for the Linden Hills Farmers' Market (LHFM). This well-established market features more than 50 of the Twin Cities favorite farmers, restaurants, makers and food startups every Sunday from 9:00-1:00 in the heart of Linden Hills. 
REGISTRATION INSTRUCTIONS 
To register for multiple dates, update the quantity to 1 on the dates you want using the drop down arrow next to the appropriate ticket type, then checkout in one transaction. You may register for as many dates as you wish throughout the season, and do not need to participate every weekend. You do not need to know all your dates for the whole year at one time, you may come back and register for new dates as often as you wish.
Registration for each week closes at 8pm the prior Sunday.
Waitlist
If the date you want is sold out, please add your name to the waitlist here: https://goo.gl/forms/igBJ6PlsfubSekgr1 
Shared stalls
If you would like to register for half a stall space, select your registration type (General or Jewelry) and you will see an option for a shared space in the drop down menu. Shared spaces are 5x10', and you will be paired with another vendor to share a space. You will be connected with your partner vendor in advance to coordinate tents and gear. It is expected that both vendors in a shared booth coordinate a mutually agreeable arrival time and share in the work of setting up the tent. The fee for a shared space is $40.00.
Season Opener May 19
As in years past, we'll be kicking off the market season down the street from the regular location at Linden Hills Park, 3100 W 43rd St, as part of the annual Linden Hills Festival. All other dates will take place at the regular location of Settergren's Ace Hardware,  2813 W 43rd St just two blocks away.
Set-up information
The market is outdoors and will be held rain or shine. Vendors to provide their own tables and 10x10' tents with at least 30lb weights on each leg. We recommend sand bag weights for maximum stability, which can be purchased for around $30 on Amazon. Tents without adequate weights will not be permitted for safety reasons. The market takes place on concrete, so staked tents are not an option.
Details including load-in times and directions will be sent out by noon on the Tuesday before the market. Booth space at Linden Hills is allocated upon arrival.
Questions: Please email holler@mplscraftmarket.com.
Food vendor inquiries should be directed to Libby Wyrum at Libby@frankandernie.com