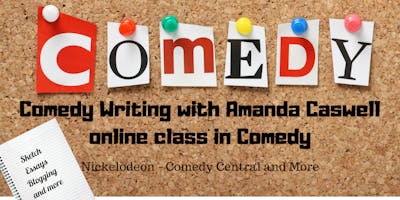 Comedy Writing - Sketch and More
Comedy Writing Online with Amanda Caswell
Whether you've ever wanted to write for late night, or just want to add a little more wit to your daily life, this class will teach you the various types of prose humor, sketch comedy, as well as comedic techniques and how to market your work.

Over the course, you will discover the fundamental principles of sketch writing and the joy of creating truly funny material. We're talking about memoirs, essays, short stories, articles, and even novels as you develop a comic premise and write a variety of pieces for your writing portfolio. By the end of the course you'll have at least 5 solid new pieces.  

From nonfiction to fiction, blogs to the boardroom, you'll discover just what it takes to turn your writing around and achieve the audience reaction you've always wanted. 

Amanda Caswell, a former Nickelodeon script writer and Comedy Centralcopywriter has spent evenings backstage in the writing rooms of SNL, Seth Myers, and Jimmy Fallon. She currently uses her comedy chops for advertising strategies and social media campaigns. 
When:
Lecture released midnight on Sundays

Live Class Q and A session (online):
TIME:
11:30am PST

DATES:
5/13, 5/20, 6/3, 6/10, 6/17, 6/24 and 7/29
(recording available if you can't attend the live Q and A)

Additional Class Feedback and Support:
Facebook Group, Question Sheet, Email

Investment: 
Early Registration (before May 10th): $390
Late Registration (after May 10th): $425.