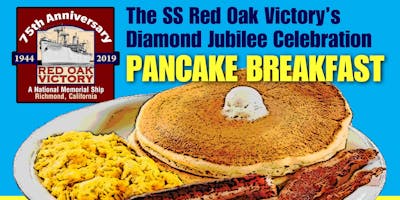 Red Oak Pancake Breakfasts for 2019
Join us in 2019 for our famous Pancake Breakfasts and help celebrate our 75th Anniversary! 
Help get the Red Oak Victory underway and enjoy home cooked scrambled eggs, sausage, bacon and of course pancakes!   Beverages include orange juice and coffee; mimosas are available for an extra fee. Your ticket helps us continue the restoration work on the Red Oak Victory.  We lit off her engines last year and now we need to complete the work necessary to get the ship underway and taking passengers on the San Francisco Bay.  
Your breakfast and donation to the ship is only $12 for adults and $5 for children 8 and under.
May 12 Mother's Day
June 16 Father's Day
August 11 Dress up like 1944 and celebrate the ship's 75th Anniversary!
September 8 Grandparents' Day
October 13 Fleet Week- see the Blue Angels and other airshow planes from the deck of the ship!
Breakfast starts at 9:00 AM and ends at 12:30 PM.
Arrive early to reserve your seat with the best view of the SF Bay! This is the only breakfast in the Bay Area cooked on a bona fide 1944 Diesel-powered stove (no worries, you can't taste it in your food), in the original ship's galley.  After breakfast, enjoy a tour of the ship or just sit, chat with new friends, and enjoy beautiful views of the San Francisco Bay Area.