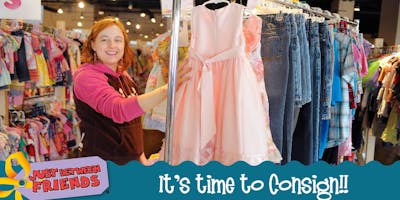 Consignor Registration Ticket - May 2-5th ($12)
If you have kids and all the stuff that comes with them, you have CA$H in your closets. It is time you consign with Just Between Friends Eagan/Apple Valley at the Spring sale.
Dates: May 2-5; Public Sale Hours: 10am-7pm Daily
Location: Hayes Ice Arena (next to Apple Valley Community Center), 14595 Hayes Road, Apple Valley, MN
To Sell:
1. Sign up at www.eagan.jbfsale.com by checking the consignor box for the event.
2. Prepay your $12 consignor fee on Eventbrite and choose your drop-off time. Consignor tickets are NON REFUNDABLE. If you decide not to consign, you will lose this fee.
When purchasing your consignor ticket, you will select a drop-off time that works for your schedule. Drop-off for the Fall sale is Monday, April 29th, 4-8pm for consignors bringing MORE than 200 items and Tuesday, April 30th, 10am-8pm for consignors bringing LESS than 200 items. The busiest time of day is in the evening from 5-8pm. If you can drop-off during the daytime, please do so.
The key to your success as a consignor is to tag high quality items that are clean and have all pieces included. Price your items in the sweet spot of 1/4 to 1/3 of retail and if you allow your items to reduce on the last day of the event, you will see a significant jump in your sales. Consignors earn 60% on sales at JBF, if you can help at the sale for a 4 hour shift, you will earn an additional +10% on your sales, 60% + 10% = 70%. Consignors also receive two presale passes to shop before the doors open to the public.
We look forward to seeing you at the sale! Cash and credit cards accepted as forms of payment at the sale.