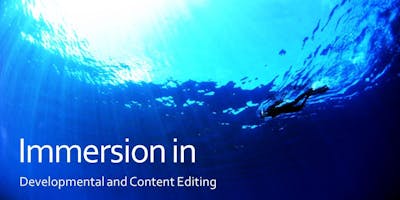 Immersion in Developmental and Content Editing
Plunge into Developmental and Content Editing
Many editors have confidence in their proofreading and copyediting skills. So much of it boils down to simply knowing the mechanical rules. It's fairly black and white.
But what about developmental editing and content (or substantive) editing?
Whereas copyediting and proofreading polish a manuscript, developmental editing and content editing define and shape it. Before we can even consider spelling, style, and grammar, we must first focus on organization, clarity, flow, intention, voice, and other in-depth issues. These are the gray areas that confound and challenge many editors.
How do you master developmental and content editing? By going deeper with immersion editing.
Immersion editing combines a high-quality professional edit with a positive personal connection built on trust. The result is a meaningful experience that helps bring the manuscript and the author to the next level—which is what developmental editing and content editing are all about.
So are you ready to take the plunge?
Join immersion editor Angela Wiechmann for Immersion in Developmental and Content Editing. In this seven-week course, you'll dive into the fundamentals of developmental and content editing as well as discover best practices and procedures—all from the immersion editing approach.



Define developmental editing, content editing, and copyediting—and see why the lines often blur.




Explore how developmental and content editing are perfect opportunities to go deeper with the immersion editing approach.



Compare and contrast developmental and content editing across the spectrum of traditional publishing, hybrid publishing, and self-publishing.




Uncover the secret immersion step that sets you up for success with developmental and content editing. (Spoiler: It happens before you make a single edit.)




Understand why developmental editing is so much more than a beta read.




Discover why content editing is the most important—yet most overlooked—level of editing.




Learn why it's crucial to create positive, trust-based relationships with authors, project managers, and other key collaborators.


Tap into the mind of Angela Wiechmann, called "the best editor in the Twin Cities," as she shares tips, tricks, insights, and stories from her twenty-year career.



Come join the growing network of "immersionites" who wish to go deeper with authors, manuscripts, and their own careers.



Whether you're a burgeoning editor looking to launch, a seasoned editor reaching for the next level, or even an author wishing to explore the other side of editing, you don't want to miss this in-depth experience. So take the plunge with Immersion in Developmental and Content Editing, and go deeper with your editing career.
Class Schedule
Tuesdays, 7:00 p.m. to 9:00 p.m.
April 23 through June 4