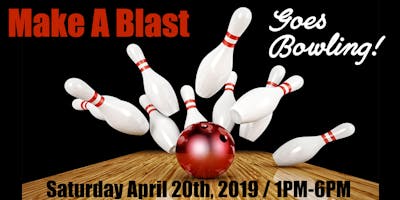 Make A Blast Goes Bowling 2019!
Join us in 2019 as we switch things up and take it to the lanes!
Check-in & Opening Reception: 1:00PM - 2:00PM
Bowling: 2:00PM - 5:00PM
Closing Reception: 5:00PM - 6:00PM
Event details: There will be raffles, food, drinks, music and more surprises to come!
- FIRST TICKET SOLD WINS "VIP PRIZE" -
- FIRST 50 TICKETS SOLD WILL BE ENTERED INTO "DOOR PRIZE" RAFFLE -
- BRING AN UNWRAPPED TOY FOR FREE RAFFLE TICKETS -
$35 BOWLING TICKETS:
1. Exclusive use of one lane for 3 hours
2. Shoes
3. Food
4. Event access
*If you purchase 1, 2 or 3 tickets you will be grouped with other's of similar group size. To reserve a lane to yourself, you MUST purchase 4, 5 or 6 tickets. There is a minimum of 4 players per lane and a maximum of 6. To be grouped with friends who purchased tickets separately, please email Elaina, erepucci22@gmail.com.
$20 EVENT TICKETS (Sold at the door):
1. Event access
2. Food
* Children under 10 are FREE (unless they're bowling)
Questions? Contact Elaina at erepucci22@gmail.com or 781-588-2193
Can't make it, but still want to support the cause? Donate HERE!
What cause are you donating to?
Most of the money raised at this event will be donated directly to the research of pediatric brain tumors at Floating Hospital for Children at Tufts Medical Center. The balance of the proceeds will be used to purchase gifts for brain cancer patients being cared for at the hospital.
Why do we do it?
The passion behind this cause stems from a family member's diagnosis of brain cancer. In May 2011 one of our family members was diagnosed with medulloblastoma which is a brain tumor prevalent in children. This led him to be cared for at the Floating Hospital for Children. Although he is no longer with us here we know he is looking down from heaven proudly as we continue to "remember the children", just as he asked us to.
Just this year many new brain cancer treatments have been approved. The Floating Hospital jumped right on the opportunity to treat their patients with the most ground breaking research out there. This hospital is a beacon of hope for so many families and every donation is so important and deeply appreciated.
Who are we?
We are a fun, loving, passionate family! The planning team consists of our aunts, uncles, cousins, parents, sisters, brothers and friends. There are about fifteen of us who attend event planning meetings and closer to thirty family members and friends who help out with the event in some other way, whether it be running errands, soliciting donations or night of event support. Our family is fully committed to not only this fundraiser, but also to supporting brain cancer research at the Floating Hospital for Children. We cannot wait to show everyone another unforgettable time at the Bowling for Brain Cancer Fundraiser 2019!
FAQ's:
What should I wear? 
Be cute but comfortable, and dont forget your socks!
Are children invited? 
Yes, everyone is invited! Children under 10 are FREE unless they are bowling. If bowling, the child price is the same as the adult price.
Will there be drinks? 
Yes, there will be a full bar!
How much cash should I bring? 
We prefer cash or checks when purchasing raffle tickets etc. but we will also be accepting all major credit cards. 

Is there parking?
Yes, there is a parking lot.

Where is the closest T stop?
Oak Grove in Malden is a 10 minute Uber from Town Line.