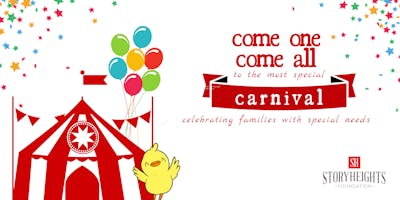 Most Special Carnival of All for Children with Special Needs
We're so excited to host one of our most beloved events of the year, celebrating families with special needs!  Come out Easter weekend to enjoy all of the activites you've come to love and expect like our balloon room, quiet room, pictures with the Easter bunny, egg hunt, all while enjoying all new booths of carnival fun!  Everything will cater to your child/ren and their special needs.  There will be games, arts and crafts, food, prizes and more!  We hope you'll make plans to join us!  
我們非常高興能夠舉辦一年中最受歡迎的活動之一,慶祝有特殊需求的家庭!來到復活節週末,享受所有你喜歡和活動的活動,如我們的氣球室,安靜的房間,復活節兔子的照片,同時享受狂歡節樂趣的所有新展位!一切都將滿足您的孩子和他們的特殊需求。將有遊戲,藝術和手工藝,食品,獎品等!我們希望您能加入我們的計劃!
Wǒmen fēicháng gāoxìng nénggòu jǔbàn yī nián zhōng zuì shòu huānyíng de huódòng zhī yī, qìngzhù yǒu tèshū xūqiú de jiātíng! Lái dào fùhuó jié zhōumò, xiǎngshòu suǒyǒu nǐ xǐhuān hé huódòng de huódòng, rú wǒmen de qìqiú shì, ānjìng de fángjiān, fùhuó jié tùzǐ de zhàopiàn, tóngshí xiǎngshòu kuánghuān jié lèqù de suǒyǒu xīn zhǎnwèi! Yīqiè dōu jiāng mǎnzú nín de háizi hé tāmen de tèshū xūqiú. Jiāng yǒu yóuxì, yìshù hé shǒugōngyì, shípǐn, jiǎngpǐn děng! Wǒmen xīwàng nín néng jiārù wǒmen de jìhuà!
特別なニーズを抱えた家族を祝って、私たちは今年の最も愛されているイベントの1つを主催することができて非常に興奮しています!イースターウィークエンドに出かけて、私たちの気球の部屋、静かな部屋、イースターのウサギの絵のように、カーニバルの楽しみのすべての新しいブースを楽しみながら、好きなアクティビティーをすべて楽しみましょう。すべてがあなたの子供/人と彼らの特別なニーズに応えるでしょう。ゲーム、芸術品、工芸品、食べ物、賞品などがあります。私たちはあなたが私たちに加わる計画を立てることを願っています!
Tokubetsuna nīzu o kakaeta kazoku o iwatte, watashitachi wa kotoshi no mottomo aisa rete iru ibento no 1tsu o shusai suru koto ga dekite hijō ni kōfun shite imasu! Īsutāu~īkuendo ni dekakete, watashitachi no kikyū no heya, shizukana heya, īsutā no usagi no e no yō ni, kānibaru no tanoshimi no subete no atarashī būsu o tanoshiminagara, sukina akutibitī o subete tanoshimimashou. Subete ga anata no kodomo/ hito to karera no tokubetsuna nīzu ni kotaerudeshou. Gēmu, geijutsu-hin, kōgei-hin, tabemono, shōhin nado ga arimasu. Watashitachi wa anata ga watashitachi ni kuwawaru keikaku o tateru koto o negatte imasu!
Chúng tôi rất vui mừng được tổ chức một trong những sự kiện yêu thích nhất trong năm của chúng tôi, kỷ niệm các gia đình có nhu cầu đặc biệt! Hãy ra ngoài vào cuối tuần lễ Phục sinh để tận hưởng tất cả các hoạt động mà bạn yêu thích và mong đợi như phòng bóng bay, phòng yên tĩnh, hình ảnh với chú thỏ Phục sinh trong khi thưởng thức tất cả các gian hàng mới của lễ hội hóa trang! Tất cả mọi thứ sẽ phục vụ cho con / ren của bạn và nhu cầu đặc biệt của họ. Sẽ có các trò chơi, nghệ thuật và thủ công, thực phẩm, giải thưởng và nhiều hơn nữa! Chúng tôi hy vọng bạn sẽ lên kế hoạch tham gia cùng chúng tôi
FAQs
Are people without special needs allowed to come?
Yes, as long as they're a part of a group that does have at least one person with special needs (ie siblings, friends, etc.)
How can I contact the organizer with any questions?
Contact info@storyheights.com with any questions.
Do I have to bring my printed ticket to the event?
No, you do not.
Does every person in my party need a ticket?
Yes, please count all members of your party with or without special needs.
Does the event cost money?
No!  It's absolutely free!
Should I bring an Easter basket?
You can, however we will provide bags for you to collect eggs and goodies in.