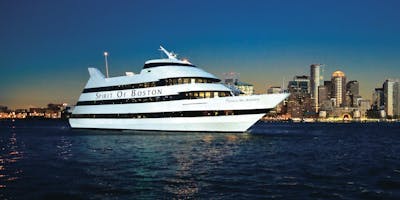 Annual GMSSO Boat Cruise!
Hi Everyone!
We are so excited to celebrate the end of the year together with our annual semi-formal GMSSO boat cruise!

The first 50 GMS students to buy tickets will get the early bird price ($35), regular tickets for GMS students will be $40, and tickets will be $45 for any non-GMS attendees or GMS students who purchase tickets after April 9th.
Schedule for the night:
6:00 - 6:30: Attendees arrive, present tickets, and board the ship
Please arrive on time so you don't miss the boat!
6:45: Set sail!
7:30: GMSSO Welcome speech, year reflection & introduction of the new executive board
7:45: Dinner 
8:30: Dancing 
10:00 Dock & Disembark

We look forward to seeing you on Saturday, April 20th!
THIS IS A 21+ EVENT.
ALL GMS STUDENTS MUST HAVE BU ID PRESENT AS WELL AST STATE ID OR PASSPORT. NON-GMS STUDENTS WILL NEED EITHER TWO FORMS OF ID OR A STATE ID AND CREDIT CARD.
By purchasing a ticket you accept the following terms: 
GENERAL RELEASE, WAIVER OF CLAIM AND ASSUMPTION OF RISK AGREEMENT 
I would like to participate in a cruise activity through the Elite Private Yachts Company that will take place in Boston, Massachusetts on April 20, 2019 (the "Activity"). This is an optional, elective, extra-curricular, afternoon activity being offered to Boston University Division of Graduate Medical Sciences students. My participation in this Activity is a voluntary decision on my part. I acknowledge that I am aware that there are risks to me of injury entailed in my participation in this Activity, including but not limited to the risks of travel to and from the Activity site. I am aware of the risks of injury involved in boating and water based activities, and I do fully and completely assume any risks solely to myself, and accept full responsibility for my individual physical fitness to participate in this Activity. I recognize that Boston University is not arranging transportation to or from this Activity. Although Boston University will provide as much information as possible on this Activity, I also acknowledge that it is my responsibility to review the itinerary and to request further information if needed to make a proper participation decision. I understand that Boston University gives no assurances or warranties whatsoever as to the safety of participants in this Activity. In consideration of being presented the opportunity to participate in this Activity and in acknowledging that I am aware of and willing to assume the risks associated with this Activity, I hereby voluntarily agree to waive, hold harmless and indemnify the Trustees of Boston University and its trustees, agents, volunteers and employees from any and all claims, demands, damages and causes of action of any nature whatsoever which I, my heirs, my assigns or successors may have against them for, on account of, or by reason of my voluntary participation in this Activity. I understand the content of this document, and I execute this GENERAL RELEASE, WAIVER OF CLAIM AND ASSUMPTION OF RISK AGREEMENT of my own free will and accord.