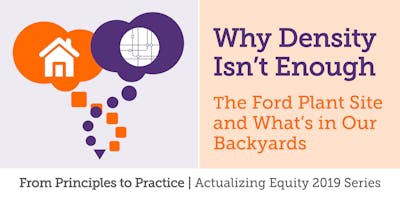 Actualizing Equity 2019: Why Density Isn't Enough
The high-profile redevelopment of the 122-acre Ford site in St. Paul ignited a somewhat predictable debate about density in the Highland Park neighborhood and citywide. Opponents raised concerns about increased traffic and building heights, while many proponents asserted the environmental and transit benefits of density.  Meanwhile, many advocates calleds for clear commitments to significant and deeply affordable housing units - something density can help support but does not deliver by itself.
Join us as we examine the organizing around the Ford Site and explore how we can center race equity and affordability — in addition to density — in housing development and land use decisions in our region.

PLEASE NOTE that this is a Brown Bag Lunch Series. We will provide snacks, but you're welcome to bring yourself a full meal.
About the space:

Rondo Community Library is located at 461 Dale St N in St Paul. 
The space currently provides 3 single stall gender neutral bathrooms.
The library has bicycle racks on the Dale Street side of the building.
The Green Line stops directly in front of the library, and stops on the #16 and #65 buses are within a few blocks. 
There are a limited number of visitor parking spaces in library parking garage, which can be entered on the eastbound side of University Avenue. There is also parking in the merchant lot across the street at Uni-Dale Mall.