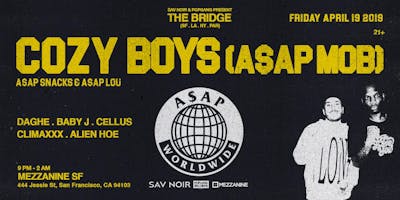 THE BRIDGE: COZY BOYS (A$AP MOB) at MEZZANINE pres. by SAV NOIR x POPGANG
SAV NOIR & POPGANG PRESENT:
THE BRIDGE
SF>LA>NY>OAK
featuring
COZY BOYS (A$AP MOB)
twitter | soundcloud | instagram
As the tour DJs for reigning rap crew A$AP Mob, the time J.Scott (aka A$AP Snacks) and A$AP Lou, otherwise known as the duo Cozy Boys, spend off-road comes few and far between.
Originally founded by the late Mob patron A$AP Yams, the group's rising notoriety has expanded into a burgeoning career outside of their Mob brethren, taking the "turn up" to some of the hottest clubs and festivals all over the globe such as Boiler Room, Coachella and Afropunk, to name a few. Now their bringing it through Mezzanine to kick off the new Sav Noir x Popgang collab party, THE BRIDGE.
+ DJ SETS FROM:
BABY J (Function, Cyber Rodeo)
CELLUS (Popgang, Harlot)
ALIEN HOE
THE BRIDGE is a new party series orchestrated by LA/SF based clothing brand SAV NOIR and SF based music brand POPGANG Records that aims to bridge the gap between city identities accross fashion, music and underground culture.