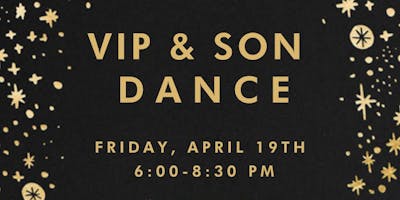 VIP + Son Dance - 5th Grade Boys
TACOS + DJ + PHOTO BOOTH
SEMI FORMAL ATTIRE 
$80 per pair of tickets
This fun evening is being coordinated by a group of 5th grade boy moms and is not a school-sponsored event. 
While many moms will be accompanying their sons to this dance, any 'Very Important Person' in your son's life is welcome. 
If an adult is not available to attend, you can arrange a double-date with a friend!
This invitation is intended to go out to a parent of all Edna 5th Grade boys. 
Please feel free to share this with any Edna 5th grade boy parent.
Send questions to: 
Cary Hueser Cary.hueser@gmail.com (mom of Brooks) 
Coleen Byrne Coleenbyrne@hotmail.com (mom of Myles)