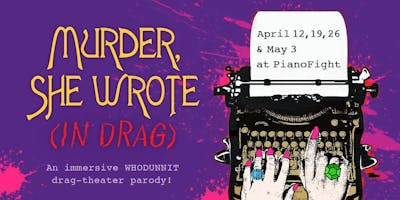 Murder, She Wrote (In Drag)
Featuring a dozen of the Bay Area's most interesting and sought-after drag performers, this immersive live-theater parody of "Murder, She Wrote" is a classic '80s whodunnit with a twist (or several). Join beloved small-town sleuth "Jessica" as she uncovers, and builds a case against, the murderer—despite several red herrings, one or two surprise characters, and a few sickening drag numbers. Who committed the crime? We're not sure yet. Maybe YOU did!
From the fevered brains of Sugah Betes, Intensive Claire, and Elsa Touche, this show will slay you.
(Poster design by zillerdesign.com)
---
PianoFight's not just a theater, it's also a restaurant and bar!
★★★★½ on Yelp
★★★★½ on Google
★★★★★ on Facebook
"Reasonably priced New American bites and cocktails in an unpretentious setting" - Zagat
"The best party spot in the neighborhood" - The Bay Bridged
"A hot SF scene" - SF Chronicle
If you plan on dining, we recommend you arrive 1.5 hours early so you have plenty of time to eat before the show. Restaurant seating is first come first serve. Drinks are always allowed in the theaters.
PARKING
Street parking is free after 6pm. We're located 2 blocks from Powell BART, numerous muni lines and there are 3 parking lots within 1 block.