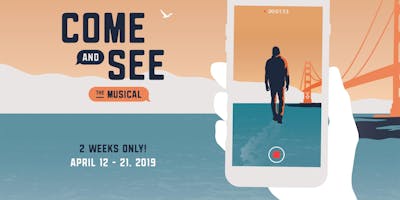 COME AND SEE - The Musical
Back by popular demand, we present Come & See, but this time with new songs, new faces, and new scenes!
What if the life and times of Jesus happened in modern-day San Francisco?

There'd be more hashtags, more coffee shops, and (because this is a musical) a lot more singing!

Most importantly, we'd still see Jesus loving the unlovable, performing miracles, and speaking words that healed others but got Him crucified.

Did it all end in death or did He rise again?

This Easter, we invite you to come and see that while our story might look different, Jesus' loving offer of wholeness, belonging, and life remains the same.
________ 
FAQs

TICKETING
How much are tickets? They're free!
Why are we ticketing? They help us track when a show fills up, so you can have the best seat available.

How do the tickets work? Eventbrite will email your ticket, so either print it out or show us on your phone. It's that simple.

How many can I get? Up to five.

Are seats assigned? Nope. Doors open 30 mins before show time, and seats are first come, first served. So get there early if you have specific seats in mind.

What if I don't get a ticket? You can still come, but those with tickets get in first. 10 mins before show time, those with no tickets will be let in.

What if I'm late? Since seats are first come, first served, your "spot" will be given away to someone in line.

KIDS
For those with kids under six: For the sake of the performers and those around you, no kids under six may sit in the sanctuary. Our church has sensitive acoustics, so sound travels easily. We ask that you either drop them off in our Kids Wing (KIDS PROGRAM ticket) or if you'd prefer to sit together, please get a FAMILY ROOM ticket.

NEW: During which shows will the Kids Ministry be available? All Sunday shows only. So if you bring a child under six on Friday or Saturday, you will only be able to sit with them in the Family Room.

Where is the Kids Ministry located? On the second and third floor if you enter by the side gate on 15 Dearborn St.

Where is the Family Room?  On the second floor if you enter by the front gate.

PARKING
Is there parking? Yes, but while our garage on 17th is always open, space is limited. We encourage you to take public transit or a ride share. Sundays do have a bit more flexibility with the Boys & Girls Club. Plus the 11:30A show also has Guerrero St.

Is it free? Yup.

PUBLIC TRANSIT
Here are a few options to get to us:

BART: 16th St. Mission Station and a 7 minute walk.

MUNI BUS: 16th & Valencia (22 line) or 16th & Guerrero (33 line) and a 5 minute walk.

MUNI METRO: Church St & 18th St (J line) and a 10 minute walk.