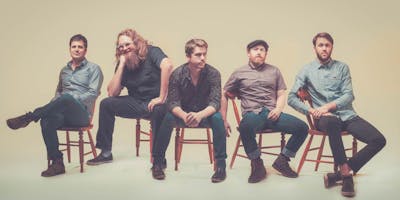 The Lil Smokies @ Slim's w/ Michigan Rattlers
Door 8 / Show 9
When people see The Lil Smokies setting up their acoustic instruments, they're often unprepared for the electric energy they generate. The band captures that same dynamic presence on their new album, Changing Shades, delivering their exceptional songwriting and bluegrass roots with the punch of a rock band."We wanted to duplicate the energy of our live shows. It's a perfect mixture of improvisation and composition. The record shows how fearless we've become in the last year," says Andy Dunnigan, lead songwriter, singer and dobro player. They cut Changing Shades in a lighthearted, week-long session at SnowGhost Music in Whitefish, MT with engineer Brett Allen (The Avett Brothers, Kris Kristofferson, Béla Fleck) and co-producer Rob Gordon (Elephant Revival). "It was a breeze," Dunnigan says. "Rob got us to focus on what makes each song special. We refined and recorded them live, together in one room, just like on stage."
The first incarnation of The Lil Smokies got together in Missoula, Montana, during the winter of 2009. Through the years, the band transformed and settled into the current lineup – Scott Parker on bass; Jake Simpson on fiddle; Matt Rieger on guitar; Matt Cornette on banjo and Dunnigan on dobro. Previously, the band has won the 2015 Telluride Bluegrass Band competition and took home the 2016 IBMA Momentum Band of the Year award. They've also wowed fans at the High Sierra, Telluride Bluegrass, DelFest & FloydFest, to name a few.
TICKET INFORMATION 
• Slim's is an ALL AGES (6+) venue.

• No refunds or exchanges are permitted, except in the case of headliner cancellation or date change. Opening acts are subject to change.

• There is an 8 ticket limit per customer unless otherwise stated.

• NEVER buy third party tickets (Craigslist, StubHub, etc.) for over face value. Scalped tickets may not be honored.

• Once you purchase, you will receive an order confirmation email from Eventbrite on behalf of Slim's Presents.

• IMPORTANT: If you do not see your order confirmation in your inbox, make sure to check your junk/spam folder. If you still do not see your order confirmation, click here to access the Eventbrite help center.

• If you are having any other technical ticketing-related issues with your order, click here to contact Eventbrite. For general show info, click here.