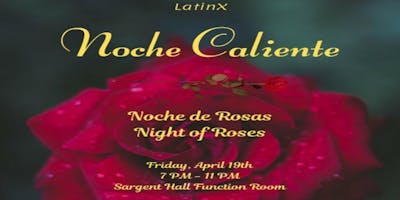 Noche Caliente
Noche Caliente is LatinX's annual party, where we spend the night celebrating Latinx culture through dance! This year's theme is Noche De Rosas. Join us for a night of mystery and romance en nuestro jardín de rosas. 

The attire is semi-formal, and food will be provided. It will be held at Suffolk University's own Sargent Hall function room from 7pm to 11pm on Friday, April 19th.
Suffolk students are welcomed to bring guests, but they MUST HAVE A COLLEGE ID. 
For more details check our Instagram page @sulatinxa or email us at su.latinx@gmail.com