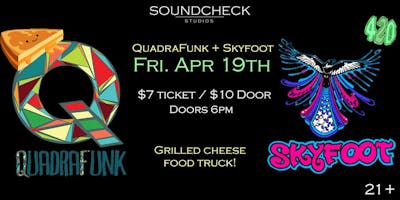 QuadraFunk + Skyfoot at Soundcheck Studios


21+ Event
Free Parking onsite
$7 Tickets / $10 Door
Doors open at 6pm
GRILLED CHEESE FOOD TRUCK!!!

Beer / Wine Served (Cash/Card Bar)
About QuadraFunk:
QuadraFunk is a Boston based, 5 piece, up and coming JamFunk outfit. Their music has spontaneity, originality, and danceability at the forefront of their sound. While they are just out of their first year of playing together they have already established themselves as one of the most talented bands in New England.

About Skyfoot:
Skyfoot is a 4 piece improvisational rock band from Boston MA. With no two shows sounding the same, it makes for a consistently unique musical experience for both the audience and the band. Skyfoot draws from all types of musical influences, but most importantly it continues the long tradition of American music that is based in freedom, discovery and on-the-spot spontaneity. And they still know how to purty!

Forming in early 2011, Skyfoot has played hundreds of shows all across the United States, and has supported acts such as Kung Fu, lespecial, Aqueous, Consider The Source, McLovins, Haley Jane and the Primates and many other jam scene staples. You'll find them rocking New England regularly, making their way down the eastern seaboard in the Carolinas and Virginias, and on occasion, touring the Northwest U.S. with shows in Colorado, Washington, Oregon, Idaho, and Montana.