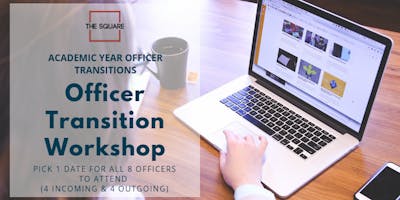 Officer Transition Workshop for the Square Spring 2019
Beacon and Commonwealth Organizations of Boston University are required to participate in officer transition training. We ask that you have the incoming and outgoing president, vice president, treasurer, and secretary attend this training. If you would like to send more than those officers you are welcome to, but please do not send more than 10 officers total for your group.
These sessions will be for groups transitioning on a academicyear terms (Officers in their positions April – April or May – May)
The following training times will be offered.
5/12 - 2:00 pm
5/12 - 3:30 pm
5/19 - 2:00 pm
5/19 - 3:30 pm
Please have one representative from each organization register for the amount of tickets your group will need. For example, if you have completed elections, the president will select to register for 8 tickets.