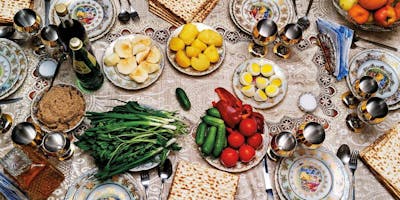 1st Night Passover Seder
Come celebrate the first night of Passover with Northeastern University Hillel on Friday April 19th at 7:00pm.
Tickets cost $36 and can be purchased through Eventbrite.

Must RSVP by April 5th, and refunds for cancellations wont be given after April 8th.
If you RSVP by Friday, April 5th and attend the Seder, you will receive a $36 gift card to Amazon.com
We have limited spots this year, so reserve as soon as possible.
Some of the highlights will include:
The four questions, including everyone's favorite: Ma Nishtanah!
Delicious Matzah Madness, sort of!!
Home of the World famous Hillel Sandwhich!!!!
4 cups of grape juice!!!!!
Do It Yourself quiz to find out which child you are? Spolier Alert; The Wicked One!!!!!
Lots of yummy kosher for Passover food!!!!!!!
No weird aunts of uncles talking crazy politics at this seder table!!!!!!!
Sweet & Sour Meatballs [VEG ALT: Sweet & sour quinoa patties]
Gefilte Fish loaf sliced with carrots
Garden Salad, Herb Vinaigrette
Sautéed Chicken Marsala, Marsala Mushroom Sauce
VEG ALT: Stuffed Mushroom Cap
Fruit Platter & Assorted Pastries
Veggie options available upon request
A big thank you to Doctors 
Barry
 and Trudy 
Karger
, in memory of their 
son 
Petey 
Karger, whose generous donation
 allows 
us to host this seder.