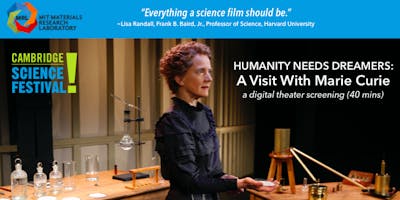 Humanity Needs Dreamers: A Visit With Marie Curie - Digital Theater
Join STEM on Stage for a digital theater screening of Humanity Needs Dreamers: A Visit With Marie Curie on April 19th from 6:30pm - 8:30pm at MIT (50 Vassar St. Room 34-101) as part of the 2019 Cambridge Science Festival, sponsored by the MIT Materials Research Lab & MIT MRSEC. The screening is 40 minutes and will be followed by a Q & A with scholar, performer & engineer Susan Marie Frontczak & filmmaker Jen Myronuk. The event is free with RSVP and recommended for adults and students ages 10 & older. 

ABOUT THE FILM: As one of the world's most renowned scientists, two-time Nobel Prize winner Marie Skłodowska Curie is best known for pioneering the field of radioactivity — including early experiments to treat cancer with radium therapy — but few understand the obstacles she faced just to enter the laboratory. 
What if she could tell her story? 
HUMANITY NEEDS DREAMERS: A VISIT WITH MARIE CURIE invites audiences to meet Marie Curie as she recollects her quest to isolate two elements — polonium and radium. From her childhood in Poland to groundbreaking research in France, Marie Curie shares the struggles, failures and triumphs behind her scientific discoveries and remarkable collaboration with companion scientist & husband Pierre Curie. 
Masterfully portrayed by living history scholar and Storysmith® Susan Marie Frontczak, HUMANITY NEEDS DREAMERS (40 mins) is the cinematic version of the acclaimed one-woman theatrical show. As an immersive living history film, this unique format breaks the digital fourth wall between live theater and cinema. 
Sponsored by MIT's Materials Research Science and Engineering Center (MRSEC), which is funded by the National Science Foundation under award number DMR-1419807.
For more information, please email Jen Myronuk (jen@stemonstage.org) or Susan G. Rosevear, MRSEC Education Officer, MIT Materials Research Laboratory (susang@mit.edu).