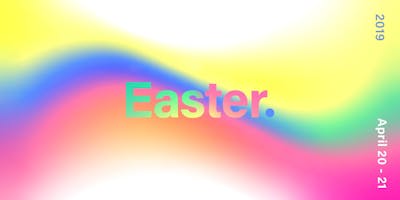 2019 Connect Easter Celebration
2019 CONNECT EASTER CELEBRATION
Join us in one of our six Easter Celebrations Services on Saturday and/or Sunday, April 20-21 of 2019!
Connect Church exists to connect the disconnected! We strive to connect people to God, to their purpose and calling in life, to fulfillment, to significance and to relationships! We believe church should be fun, a place where you're loved and accepted, a place you feel safe, free and empowered to grow!
We also offer an excellent, clean and safe environment for kids called Connect Kids! These are age separated classes with experienced teachers, offering age appropriate teaching about Jesus and practical Christian living.
You can choose between 6 different service times, in 2 locations.


Locations details:


Ashland Campus > 280 Pleasant Street, Ashland, MA 01721



Framingham Campus > 215 Elm Street, Framingham, MA 01701





Service times details:

Ashland Campus




Saturday, April 20th, 2019 from 4:00pm to 5:15pm


Saturday, April 20th, 2019 from 5:45pm to 7:00pm


Sunday, April 21st, 2019 from 8:45am to 10:00am


Sunday, April 21st, 2019 from 10:30am to 11:45am


Sunday, April 21st, 2019 from 12:15pm to 1:30pm



Framingham Campus




Sunday, April 21st, 2019 from 10:00am to 11:15am


Get your FREE ticket(s) and we hope to see you there! When getting tickets, please get one per person participating in the main auditorium. No tickets are needed for children being part of Connect Kids as we'll have a separate check-in system the day of the event, to ensure the utmost security for them!
Should you have any questions about the tickets or the event itself, please contact us at office@weconnect.cc or by calling (508) 881-7401.
Thanks and we hope do see you there!
---
FAQs
Q: Can I contact the event organizer if I have questions about the event?
A: Yes! You can contact the Connect office team by emailing office@weconnect.cc with any questions or by calling 508-881-7401.
Q: Is there a cost to this event?
A: No, tickets are absolutely free! We also serve Starbucks coffee, tea, water, pastries and different snacks for free!
Q: Do I have to pay for parking?
A: No, we have plenty of parking on location as well as ample overflow parking in nearby locations.
Q: Is my registration/ticket transferrable?
A: Yes! You can give your reserved seat away, in fact we want you to! However, don't forget you will need a ticket to ensure seating at the desired service. Giving yours away means you'll need to get another one for you. 
Q: Can I update my registration information and/or change the Easter Celebration time I would like to attend?
A: Yes! If you need to update your registration, you can cancel your previous order and simply place a new one. 
Q: Do I need to get tickets for my child(ren)?
A: If your child(ren) will be attending Connect Kids, not tickets are necessary. If they will be attending service in the main auditorium of either one of our two locations, they'll need a ticket too.
Q: Do I need to bring my tickets to church the day of the event?
A: Yes! In order for us to ensure you'll have a seat at the desired service, everyone must present their ticket before entering the main auditorium.
Q: What if I forget/misplace my ticket?
A: No problem! We'll be able to look you up in our system. However, looking it up will significantly delay the admission process so we would like to encourage you to save it in your email for easy access.
Q: What if I don't get any tickets, can I still participate in one of the Easter Celebrations? 
A: Yes, you can! Unless we literally don't have a seat for you, we'd love to have you join us. However, priority seating will be given to ticket holders first.
---