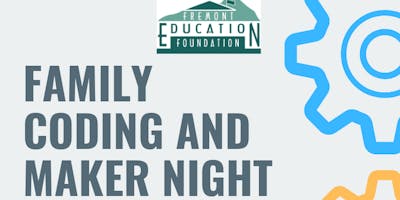 Chadbourne Coding and Maker Night
Come join us for the 1st Annual Fremont Education Foundation Coding and Maker Family Night!
Session 1 is from 5:30 - 6:10 pm
Session 2 is from 6:15 - 6:55 pm

Session 3 is from 7:00 - 7:40 pm
Please sign up for a session according to your child's grade level. Activities include coding using Scratch programming, 'building' a computer, designing and building a town, building a roller coaster, making a catapult, etc. Students will have time to do just one activity per session. Note that activities may vary and students will be assigned to a particular activity based on grade level. If you come for Session 1 or 2, you may stay for the following session(s) and participate in a different activity, space permitting. 
****Please only reserve a ticket for your child. The parent(s) does not need to reserve a ticket. All students must attend with a parent(s).****