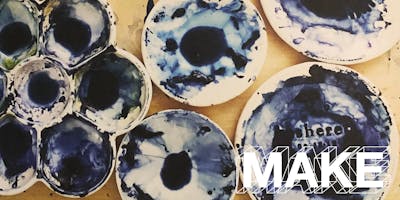 MAKE: In Pursuit of Inspiration w/ Rae Dunn
On the third Thursday of each month, collaborate with artists and makers, explore unique themes and re-think materials through creative design projects.
This month, MCD welcomes beloved Bay Area artist, author and ceramicist Rae Dunn to celebrate the pre-release of her brand new book, In Pursuit of Inspiration. During the Artist Happy Hour, hear from Rae in conversation with MCD programmers about her path to inspiration and the innate creativity in all of us. Pick up a pre-release copy of the book, then stick around to get it signed and discover her favorite techniques for approaching a blank page-- from drawing with your nondominant hand to sketching with objects found in nature, each chapter offers a simple yet surprising catalyst to help you get in touch with your own creativity.
Trust your instincts and make more art within the MCD galleries by putting Rae's processes to practice at instructor and self-led hands-on stations throughout Material Domestication and Wanxin Zang: The Long Journey.
Rae Dunn is an artist, author and ceramicist. A world traveler, she has exhibited her work in clay across the country and internationally. Her work has also been featured in a number of publications including Martha Stewart Living,  the San Francisco Chronicle, the New York Times, Bon Appetit and more. Dunn is the author of Wilma's World and France: Inspiration du Jour (also from Chronicle Books). She lives in the San Francisco Bay Area. 
6:00 PM-6:30 PM • Doors open + exhibition viewing time
6:30 PM-7:00 PM • Artist Happy Hour conversation
7:00 PM-9:30 PM • Book signing + hands-on activation in galleries
Cash/Square bar for guests over 21 • Complimentary drink tickets for MCD members; ID required • All ages welcome
Pre-registration required.
$8 general admission
$6 students/seniors
Museum members FREE