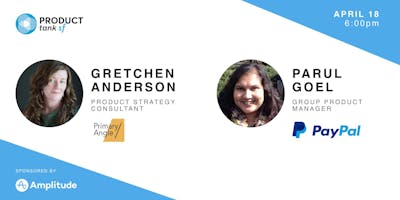 The Best PM Strategies for Managing Conflict and Collaboration
Conflict is inevitable in every collaboration and your conflict management approach is vital to your success in developing high-quality products.
Join us for a conversation with Gretchen Anderson, Product Strategy Consultant and Parul Goel, Product Manager for PayPal while we dive into techniques and frameworks on how to get people to build trust, come to a consensus, and learn to engage in conflict.
---
ABOUT THE TALKS
Secrets of Collaboration
By Gretchen Anderson
Being able to get your team working well together to make sure of all their different skills is critical to developing quality products. Getting people to build trust, explore ideas, come to consensus, and communicate their progress takes strong leadership.
In this talk, Parul will share the insights she gleaned from collaborations in a variety of industries and settings to help you make working together less painful and more productive.
Techniques to effectively engage in conflict
By Parul Goel
As Product Managers, dealing with conflict, such as conflict over priorities or clash of personalities, is a part of our role. People have different goals, opinions, personalities and communications styles. And when these differences come head to head, they lead to conflict. If left unaddressed, conflict can create stress and anxiety. Many of us believe that by avoiding conflict, we can make it go away. However, conflict doesn't go away, it escalates. Learning to engage in conflict will help us be more effective in our roles – make better decisions, build relationships based on mutual respect and stay true to ourselves. In this talk, Parul highlights why we avoid conflict, and provide a framework to deal with it effectively.
---
ABOUT THE SPEAKERS
Gretchen Anderson
Product Strategy Consultant
Gretchen Anderson consults with clients to inform their product strategy and improve team collaboration skills. She spent the first part of her career in design consulting at firms like frog design, Cooper, and LUNAR. She was Head of Design at PG&E, California's largest energy company; she has led the design of the hardware and software of a next-generation surgical system and served as VP of Product at GreatSchools.org. Gretchen is a Bay Area native who left only long enough to get a bachelor's degree from Harvard in History & Literature.
Parul Goel
Group Product Manager PayPal
Parul is a Product Manager at PayPal. As a part of the Partners and Marketplaces team, Parul enables easy payments for large marketplaces and platforms, and helps them find new ways to monetize. She is also an expert in dispute and chargeback process setup and optimization. Outside of her role, Parul is one of the leaders of Product Excellence Programs at PayPal. She also enjoys being a part of Women in Product and several other product communities. Parul holds an M.S in Computer Science from Columbia University.
---
Big thanks to our sponsor Amplitude!