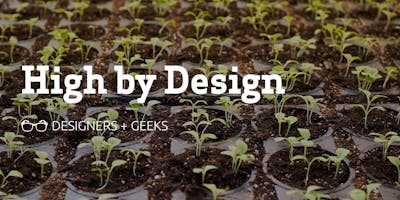 Designers + Geeks: High by Design
High by Design is a look at the creative profession in the legal cannabis industry. Now an annual tradition for us, this event is one of our favorites. Where else can you look at a highly-stigmatized, previously-illegal, and widely-enjoyed industry that suddenly needs to transition to mainstream design? The cannabis industry is one of the fastest growing in the world, and California is leading the charge in many ways. In this session of Designers + Geeks, we'll look at the challenges, opportunities, and practices that getting us High by Design.
-------------------
SALWA IBRAHIM | Owner & Managing Partner, MKSI Investments
For more than 10 years, Salwa Ibrahim has been a pioneer in the California cannabis industry. She has opened and operated numerous dispensaries and cultivation/extraction facilities, totaling over $50M in sales annually throughout multiple states,. In 2016, Salwa and her partners made history with Blum, the first cannabis dispensary to do an initial public offering. She continues to play a key role in the market as recreational use drives rapid change in the industry. In her current role at MKSI Investments, she lends expertise and experience to emerging cannabis companies while seeking new opportunities and markets.
------------------
JOHANNA SUAREZ | Co-founder and Chief Operating Officer, House Caviar
Johanna is a serial entrepreneur with over 12 years of experience managing small business operations and startup companies across different industries. Prior to House Caviar, Johanna lead team strategies in growing brand awareness with Events Marketing at Square, she also spearheaded the first ever credit card sales acceptance at Coachella Music Festival, generating $12M in 2015 in its pilot program and $22M in 2016. She then moved to a cannabis pharmaceutical start up as Head of Product Operations, where she oversaw and led the development of the Root mobile app, a learning tool to grow cannabis, as well as iPOS, an ERP seed to sale track and trace system.
------------------
SETH BANKS | Principal Product Designer, Green Bits
Seth Banks is Principal Product Designer at Green Bits, the premier technology and services company powering the legal cannabis market. Green Bits streamlines cannabis operations by designing human-centered solutions to eliminate the inherent complexity that comes from operating in the most highly regulated market in the United States.
Seth has been designing online experiences for over 20 years. During that time, he's produced the only socially conscious social network for firearm store owners (Gun Shop Watchlist), created freelance time tracking & invoicing software used by thousands of small businesses (Cashboard), and developed the first open-source Ruby on Rails e-commerce platform (Substruct). Seth is an outspoken advocate for design thinking, and organizes Design Sprint Silicon Valley.
------------------
CAT OSHIRO | Senior Digital Product Designer, Caliva
Catherine "Cat" Oshiro is a San Francisco based Product Designer and Illustrator. She is currently Senior Digital Product Designer at Caliva, a market leader cannabis dispensary and cultivation facility based in San Jose. Cat brings more than 10 years of experience designing digital products across a variety of industries. She focuses on building unique experiences that leave an impactful and lasting story. Prior to Caliva, she oversaw digital design at method products and Bleacher Report, and has worked with companies including Mend, Google and Yelp. Born and raised in Sacramento, California, she received her Bachelors of Arts in Communication Design from California State University Chico.
---
FAQs
Are there ID or minimum age requirements to enter the event?
Yes, this event is 21+, and attendees will need to present a valid ID to join us. It's the beer!
What are my transportation/parking options for getting to and from the event?
Yelp's beautiful office is near the corner of New Montgomery and Mission St, right in the heart of San Francisco. It's easy to get to from BART, many buses, or your ride sharing app of choice. If you need to drive, paid parking is available nearby.
Can I arrive after 8pm?
No!! For building security staffing reasons, we can not let you in after 8pm. We're not joking - if it's 8:00.0001pm, you will be turned away. This really sucks, and we don't want it to happen - please arrive before 8pm.
Can I smoke / vape / etc. at this event?
No. Smoking / vaping is not permitted at the building.