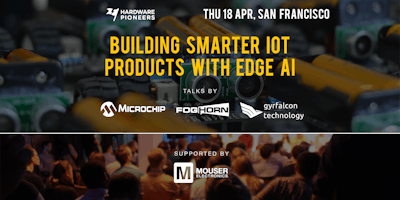 Building Smarter IoT Products with Edge AI: Talks by Microchip, Gyrfalcon and FogHorn
Discover more about the Hardware Pioneers community on our website.
This event is supported by Mouser Electronics.
Special thanks to Bolt for hosting us at their fantastic venue.
---
AI is moving towards edge devices and making things become more intelligent. Curious about how improved AI algorithms are driving the trend towards machine learning being run on the end device rather than in the cloud? Join us on the 18th of April to learn more from:
‍
- A leading provider of micro-controller and analog semiconductors, providing low-risk product development, lower total system cost and faster time to market for thousands of diverse customer applications worldwide (Microchip).
- The world's leading developer of high-performance, low-power and low-cost AI accelerators (Gyrfalcon Technology).
- The only "real" edge intelligence solution in the market today (FogHorn).
See agenda below for full details about the speakers.
Drinks and pizza will be served throughout the night.
---
About the speakers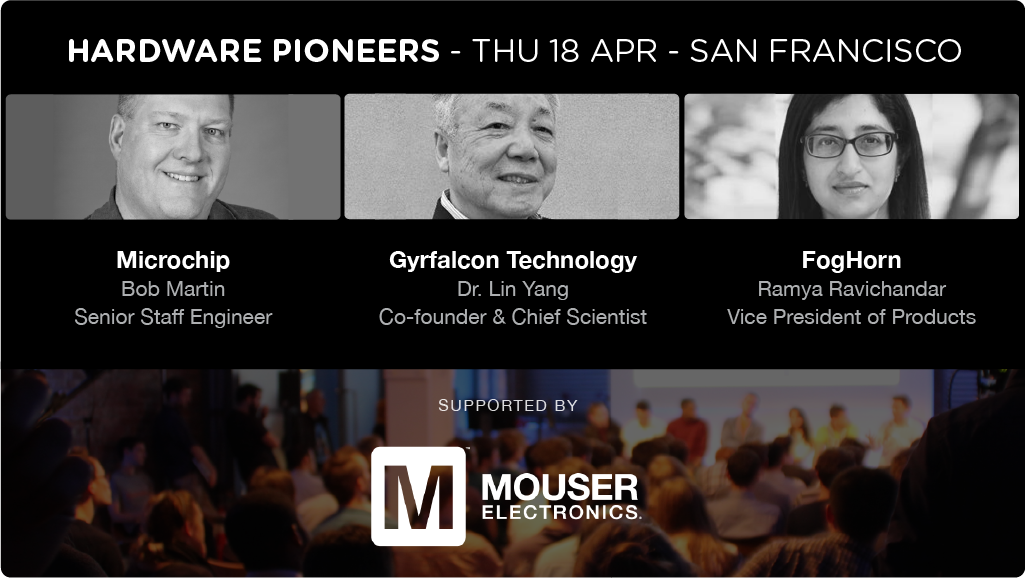 Bob Martin, Wizard of Make / Senior Staff Engineer at Microchip
Talk title: Design considerations for bringing AI closer to the edge
About the speaker: An avid maker before it was a widespread term, Bob Martin has been tearing apart things to see how they work for his entire life. After obtaining a B.S.E.E. from the University of Saskatchewan, his early career spanned everything from installing specialized instruments into Arctic weather stations, designing industrial control systems and supporting upper atmospheric research campaigns. With 30 years of embedded system experience, he now serves as the "Wizard of Make" for Microchip in which he keeps the Maker spirit alive within Microchip, educates aspiring Makers and continues to create, experiment and explore. 
About the company: Microchip Technology Inc. The Embedded Control Solutions Company®
Microchip Technology Inc. is a leading provider of microcontroller, analog, FPGA, connectivity and power management semiconductors. Its easy-to-use development tools and comprehensive product portfolio enable customers to create optimal designs which reduce risk while lowering total system cost and time to market. The company's solutions serve more than 130,000 customers across the industrial, automotive, consumer, aerospace and defense, communications and computing markets. Headquartered inChandler, Arizona, Microchip offers outstanding technical support along with dependable delivery and quality.
Introduction to the CIP Hybrid Power Starter Kit
PIC-IoT WG Development Board
Dr. Lin Yang, Co-founder & Chief Scientist at Gyrfalcon Technology Inc.
Talk title: Executing learning and use of AI on the Edge
About the speaker: Dr. Lin Yang received his bachelor degree in Electronics and Communication Engineering from Tsinghua University and his PhD in Electronics Engineering at UC Berkeley. His areas of research include image processing, neural network, image recognition, and deep learning processor. Dr. Yang played a crucial role in inventing Cellular Neural Network (CNN) in 1988, and China digital video broadcasting terrestrial (DVB-T2) standard in 2005. He received multiple patents and awards in both China and the U.S., including IEEE Best Paper Award in 1988, China NationalInvention Award in2005, and China National Patent Award in 2015. Dr. Yang was also a tenured professor at Tsinghua, Fudan and other top universities in China.
About the company: Gyrfalcon Technology Inc. (GTI) is the world's leading developer of high-performance, low-power and low-cost Artificial Intelligence (AI) accelerators, founded in 2017 by veteran Silicon Valley entrepreneurs and Artificial Intelligence scientists. Chosen as Samsung's global AI accelerator chip vendor, GTI started shipping first generation chips in Q1 2018. As part of a strategic partnership agreement, GTI chips will enable LG Electronics' AI products in 2019.
Gyrfalcon Technology Inc.
Gyrfalcon Technology Inc. Demo Showcase
Ramya Ravichandar - VP of Products at FogHorn
Talk title: Industrial IoT Use Casesat the Edge
About the speaker: Ramya Ravichandar, Vice President of Products at FogHorn, brings a rare combination of technical expertise in real time analytics, machine learning andAI, combined with valuable experience in Industrial IoT. She is a seasoned product leader who previously headed Cisco's Streaming Analytics platform forIoT.  She has a PhD in Computer Science from Virginia Tech.
About the company: FogHorn is a leading developer of "edge intelligence" software for industrial and commercial IoT applications.FogHorn's software platform brings the power of machine learning and advanced analytics to the on-premise edge environment enabling a new class of applications for advanced monitoring and diagnostics, asset performance optimization, operational intelligence and predictive maintenance use cases.  FogHorn's solutions are ideally suited for OEMs, systems integrators and end customers in vertical markets such as manufacturing, power and water, oil and gas, mining, transportation, healthcare, retail, as well as Smart Grid, Smart City and Smart Car applications.

---
Community partners
IET - The Institution of Engineering and Technology
E&T - the IET's award-winning monthly magazine
Electronic Specifier - Europe's premier publisher of information resources to the Global Electronics Industry.
---
Agenda
6:15 pm - Attendee check-in, drinks and networking.
6:50 pm - Event opening. 
7:00 pm - Bob Martin - Wizard of Make /Senior Staff Engineer at Microchip
7:20 pm - Dr. Lin Yang, Co-founder & Chief Scientist at Gyrfalcon Technology 
7:40 pm - Ramya Ravichandar - VP of Products at FogHorn
8:00 pm - Community announcements: This is the time for you to share with the rest of the room what you are working on, or make any sort of announcement you like. You have 2 minutes max. for a short shout out.
8:20 pm - Drinks and networking.
9:30 pm - Event ends.
---
About Hardware Pioneers
Discover more about Hardware Pioneers on our website.
Get notified about future events here.
Follow us on Twitter!