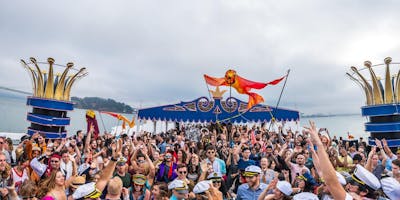 DAYBREAKER SF // Onesies on the Water
In collaboration with Hornblower Cruises & Events

You're invited to our first BOAT PARTY of the year! 
With Earth Day just around the corner, we're celebrating by sailing on the Bay with the blue sky above us and the sound of the ocean waves around us.
On Friday, April 19th, we're gathering to share an unforgettable sunrise at sea. As Mother Earth paints the skies in vivid hues, we'll remember that everything on this planet holds beauty — all we have to do is marvel in it. DJs from Opulent Temple will keep us grooving on the ocean, and surprises will be aplenty.
Wear an animal-inspired onesie; see you on the San Francisco Belle.

THE LINEUP
+ Featuring DJs from Opulent Temple
+ Location: Hornblower Belle — Catch the boat from Pier 3 on the Embarcadero
+ Cast-off is 7:10 am SHARP (please don't arrive later than that)
+ Yoga with Martine Hamers 6 - 6:45 am / Dance Party 6:45 - 9am
+ Back on land by 9am

+ If you're signed up for yoga, please bring a yoga mat
+ Free GT's kombucha, bfast bites by Manitoba Harvest + more (while they last!)
+ Live performances and special surprises!

We are proud to share that this event will be climate positive, courtesy of CHOOOSE who is helping us offset more CO2 than our carbon footprint for the morning.


---

Costume Inspo: Wear an animal-inspired onesie
April choreography: Coming soon!

April giveback: Pathway to Paris