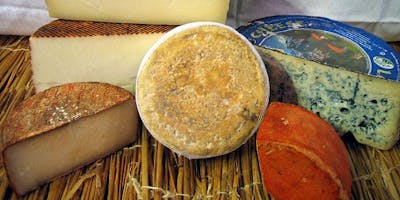 Cheese and Wine of Spain
With its creamy goat cheeses, nutty sheep cheese, and pungent blues, it's easy to see and taste why Spain has long been one of our favorite sources of cheese inspiration. Join our mongers for a taste and flavor tour of Spain! In this class we will sample pairings of wines, cheeses and other goodies from the plains of La Mancha to the Valencia coast. Our cheesemongers will delve into the history of the cheese and wine makers, and of the landscapes that makes these small-production delicacies what they are today. Eight flights of cheese, four flights of wine, several traditional accompaniments and endless stories is our favorite way to explore this diverse and magnificent country!
NOTE: This class is held at our Classroom Annex, not our retail location. The annex is located at 67 Smith Place in Cambridge, and we highly recommend reviewing the directions available here. 

Please be aware of our cancellation policy.