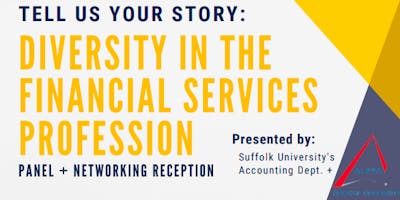 Tell Us Your Story: Diversity in the Financial Services Profession
ALPFA SU is collaborating with Suffolk University's Accounting Department f
or our Tell US Your Story signature Spring event with the theme: Diversity in the Financial Services Profession!
Our panel includes successful business professionals of the Greater Boston Area:
Moderator: 
Andrew Thorne CPA, ACCA - Partner, Asset Management - PwC
Panelists:
Antoine Melay - Vice President, Client Relations, Workforce Development Training - Windwalker Group & NABA Board of Directors Member
Dellren Lindsey MBA/MSA '16 - Deputy Finance Director - Department of Housing and Community Development
Karel Ngnibo Nogna, CPA, MSA '15 - Senior Audit Associate - KPMG
Pushpa Kumari, CFA, MSFSB '13 - Financial Institutions Credit Analyst, AVP - State Street
Tamie Phan, ALPFA Member - HR Global Inclusion and Diversity Manager & Consultant - State Street Corporation
Joel Guerrero, BSBA '17, ALPFA Member - Financial Advisor - Merrill Lynch Wealth Management, Bank of America Corporation
After the panel discussion, we will host a networking reception with refreshments and Latin food. Don´t miss out!
For more information, please contact us at eboard.alpfa@gmail.com.

See you there!