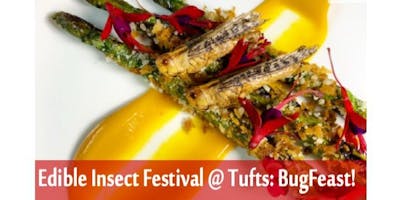 Edible Insect Festival @ Tufts: BugFeast!
Right now, the insect food movement is rapidly gaining momentum in the United States. This festival places Tufts at its leading edge by spreading the word about the environmental impacts of our dietary choices and by highlighting a more sustainable food system for the future. Dr. Sara Gomez, Assistant Director of Tufts Environmental Studies Program, is excited to share this message with the wider Tufts community. She notes that "One of our main goals is to educate students about sustainable food systems. What better way to do so than by exploring how insect consumption can help reduce our diet's carbon footprint? This festival provides a unique opportunity to merge theory and practice." And, as Lewis says, "At the end of the day, we hope people will embrace insects in whole new way – for breakfast, for lunch, and even for dinner."
Chef Joseph Yoon will be preparing a catered meal for the Tufts Community on Thursday, April 18th. Join us to taste the delicious, sustainable, and nutritious Brooklyn Bugs recipes.