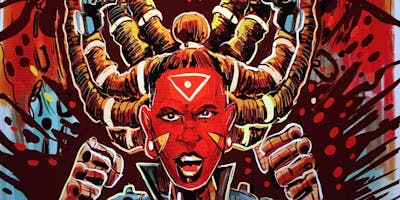 Afrofuturism & Black Speculative Arts Expo and Symposium
An event featuring artists, writers, and scholars from the United States and beyond.
Screening of short film "Static" and discussion with filmmaker David Kirkman.
Expo showcasing the work of local and regional creators of color in writing, visual arts, architecture, and more.
Presented by the Boston University African American Studies Program, the Boston University Arts Initiative, and the Black Speculative Arts Movement.
Featured Presenters
Reynaldo Anderson
Critic, Editor, Activist and co-founder of BSAM, Harris-Stowe State University
Sheree Renée Thomas 
Writer, poet and editor
Andrea Hairston
Science Fiction Playwright & novelist, Smith College
Quentin Vercetty
New Media Visual Artist and Storyteller, Montreal
Stacey Robinson 
Visual Artist and Curator, U of Illinois

David Kirkman
Filmmaker, Saint Louis Missouri
"Arts Grant from the BU Arts Initiative – Office of the Provost" bu.edu/arts