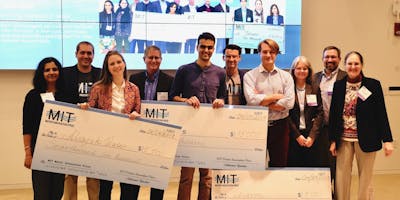 2019 Water Innovation Prize Pitch Competition
Wonder how startups are applying cutting edge technologies in waste water management and water infrastructure? Curious to see innovative business models that would fundamentally change the way we think about and use water?

2019 Water Innovation Prize finalists will be pitching in front of a panel of judges and a live audience to compete for $35,000 in awards. Space limited. RSVP now to reserve your seat!

== AGENDA ==
6:00-6:25PM - Registration, Buffet Dinner and Finalists Poster Session

6:25-6:30PM - Introduction to MIT Water Innovation Prize

6:30-7:00PM - Keynote by Industry Practitioners:

                        Tom Ferguson; Vice President of Programming; Imagine H2O

                        Dr. You Wu; Co-founder & CTO; WatchTower Robotics

7:00-8:30PM - Pitches from Finalists

8:30-9:00pm - Dessert, Judges Deliberate and Awards Announcement
== Special Thanks to Our Sponsors ==

Xylem, PepsiCo, Watts, J-WAFS, FAMAE, Cargill
Visit http://www.mitwaterinnovation.org/ for more information!