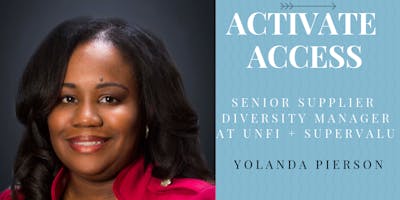 The Activate Network Members-Only April Connect
Join us for the Activate Network Members-Only April Connect
The Activate Network is an exclusive community that supports the success and excellence of powerful women business owners of color. There are many business owner networks in the Minnesota but you've never experienced one like this. The Activate Network will be one of the most influential groups in the state of Minnesota and a community where women business owners of color are provided opportunities to create, maintain, and grow successful businesses.
At the Activate Network-April Connect, you will have a chance to network with other women and learn key strategies on how to secure corporate contracts.
This event is free to attend for members.
11:00am - Meeting begins (on time)
11:30pm - Guest Speaker - Yolanda Pierson
You don't want to miss this! Please don't hesitate to contact us with any questions info@theactivatenetwork.com
ABOUT YOLANDA PIERSON
Yolanda Pierson is a recognized leader in supplier diversity, business development and sourcing strategies, Yolanda has led supplier diversity programs and acted as supply chain optimization solutions expert for manufacturing, distribution and retail for over 15 years. Presently, she is Sr. Manager of Supplier Diversity and Inclusion at UNFI formerly SUPERVALU and the founder of Dream Out Loud! a consultancy focusing on Life Enrichment workshops, Business Development and Executive Mentoring.
Yolanda is a frequent speaker/panelist for conferences and events focusing on supplier diversity, personal branding and business development. In 2018, she was awarded as one of The Top 25 Women in Power Impacting Diversity by Diversity Plus Magazine and WBENC (Women's Business Enterprise Network). She is the author of "A Token of Love", a personal memoir about forgiveness. She received her Master of Business Administration (MBA) from Concordia University and a Master of Supply Chain Management from The University of St. Thomas. She holds the following professional accreditations; CSCP (Certified Supply Chain Professional) and CPSD (Certified Professional in Supplier Diversity) from Institute of Supply Chain Management (ISM).
Favorite Quote:
"Diversity is being invited to the party; inclusion is being asked to dance." — Verna Myers