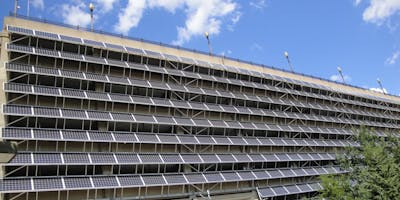 Minnesota Solar Permitting Training Workshop
Ramsey County is excited to announce that in partnership with the Great Plains Institute, the Metropolitan Council and SolSmart, it will be hosting the 2019 Annual MN SolSmart Solar Permitting Best Practices Workshop on April 17, 2019.
SolSmart is a cost-free, nation-wide, Solar Best Practices Designation Program specifically developed for cities and counties. The workshop will be led by national Solar Permitting & Inspections expert Bill Brooks, who has provided training to over 5,000 solar professionals and solar permitting staff.
We will have a Q&A panel with Bill Brooks and permitting & inspections staff from Minnesota communities who are leading the way on this topic. This year's workshop will be special in that we'll be recognizing the achievement of the State's 19 SolSmart-Designated Communities, and the 33 currently working toward SolSmart Designation. The training will be available in-person and through a live webinar stream.
Agenda
12:30 – Check-in and Refreshments
12:50 – Group Photo for Representatives from SolSmart Designated and Aspiring Communities
1:05  – Webinar begins with Welcome from Ramsey County Commissioner Victoria Reinhardt
            The Importance of the SolSmart Program, Congratulations, MN SolSmart Achievements - David                            Golembeski, The Solar Foundation
1:25  – Best Practices in Solar Permitting - 2019 and Beyond - Bill Brooks, Brooks Engineering, http://brooksolar.com/aboutus.html
Break
2:40   – Local Panel from Minnesota SolSmart Communities – best practices, lessons learned and Q & A
3:10  – Final Remarks and Adjourn by 3:15