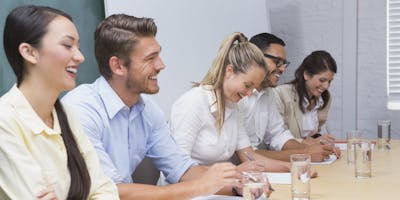 Come Learn About The 4 True Keys to Incredible Organizational Performance
                                       You're Invited to the Exclusive Private Event
                              The 4 True Keys to Incredible Organizational Performance
                                   with one of North America's top performance advisors
Would you like to know how some of the best companies in the country consistently outperform their competitors?
Would you like to learn how to significantly improve the performance, growth and overall prosperity of your business?
How about making your job as business leader easier, more enjoyable and more rewarding?
Come learn about the organizational performance model that has been used privately by over 50 Fortune 500 companies to improve the performance of over 1.2 million people.
Once you understand and leverage the E.E.S.E. ['easy'] model of performance, (the model we'll explain at the event) you'll wonder why you used to think this was all so hard.
This simple model is an elegant integration of today's most valuable performance management principles for companies of any size.
Tidbit: For example, we'll show you how some people can create 16 times more value.
We'll walk you through a simple real world example of correctly playing to people's strengths gets 30 times better results than Gallup claims you should expect.
Presenter: Dale Henry, Founder & CEO of Critical Insight Group
Dale has been asked to personally lead the creation of the talent management and organizational performance strategies and systems of over 50 Fortune 500 companies.
He's one of less than 100 people in the world who have been awarded the designation of Master Human Capital Strategist from the international Human Capital Institute.
And he is one of 250 people in the world who were personally invited by John Maxwell
– the world's #1 authority on leadership today – to be a Founding Partner and Inner Circle member of the John Maxwell Team, an international team of master coaches and trainers in leadership excellence & performance.
Intended audience:
This private, intimate, and invitation-only event is for executives and senior business leaders who care about, and are responsible for, the performance and success of their companies.
Please no consultants, advisors, coaches, or recruiters.
Date and Location:  
Thursday, April 18th 2019
8:00 – 9:30 am
At SeilerSchindel, PLLC
5901 Cedar Lake Rd, Minneapolis, MN
For More Information and Registration contact:
Anna Olson, Vice President, Business Development & Client Success
Critical Insight Group
anna.olson@criticalinsightgroup.com
(612) 282-0773