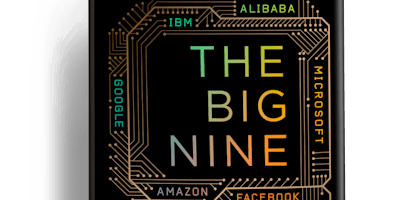 Systems at Play and How We're Players featuring futurist Amy Webb
Event Agenda
6:00 p.m. - social time, appetizers, cash bar
6:30 p.m. - conversation with Amy Webb
7:30 p.m. - book signing, meet and greet
April 2019 Systems at Play topic
The Big Nine: How The Tech Titans and Their Thinking Machines Could Warp Humanity (PublicAffairs/ Hachette, March 5, 2019), is a call-to-arms about the broken nature of artificial intelligence, and the powerful corporations that are turning the human-machine relationship on its head. AI's destiny is in the control of nine big corporations in the U.S. and China. The American portion of the Big Nine—Amazon, Google, Apple, IBM, Microsoft and Facebook—have big ideas about how to solve some of humanity's greatest challenges, but they're beholden to the whims of Wall Street and have only a transactional relationship with Washington. Meanwhile, China's portion—Baidu, Alibaba and Tencent—are very much tethered to Beijing and the demands of the Chinese Communist Party. All of us are caught in the middle, as our data are mined and refined in service of building the future of AI.
About Our Speaker 
Amy Webb is a quantitative futurist. She is a professor of strategic foresight at the NYU Stern School of Business and the Founder of the Future Today Institute, a leading foresight and strategy firm that helps leaders and their organizations prepare for complex futures. Amy was named to the Thinkers50 Radar list of the 30 management thinkers most likely to shape the future of how organizations are managed and led and was won the prestigious 2017 Thinkers50 RADAR Award.
Interested in partnering? Systems at Play is seeking Sponsors and Promotional Partners. Email Alfonso Wenker at alfonso@teamdynamicsmn.com
About the Event Series
Systems at Play is a collaboration between Events by Lady K and Team Dynamics – two social enterprises committed to building communities we can be proud of and connecting leaders to ideas and opportunities to shift systems. During a time when people feel increasingly polarized and have a deep desire for connection, Events by Lady K is leveraging concepts of Universal Design to convene people while centering multiple identities across ability, gender, race and more. Team Dynamics builds the capacity of leaders and teams to shift thinking and behavior to deconstruct false hierarchies of ideas and humanity. Together these two companies are hosting Systems at Play to model Universal Design values while providing audiences the opportunity to wrestle together with real-time concepts and issues.