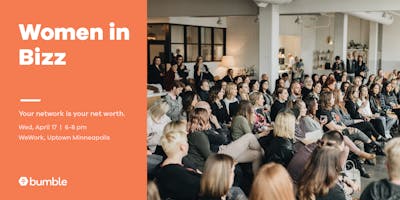 Women in Bizz
Instead of competing for seats, we are bringing more!

Join us at our next Bumble Bizz as we learn from an incredible group of female entrepreneurs who are writing their own rules, paving the way and creating opportunities for others along the way.

Meet the panelists:
Dayna Frank is President and CEO of First Avenue & 7th St Entry Productions, Minnesota's leading independently-owned & operated concert venue and promoter. Dayna has expanded the business beyond its star-adorned walls, to include the Fine Line, Turf Club, the Palace Theatre, and most recently The Fitzgerald Theater. She is currently working with the public to develop a Community Performing Arts Center on the Mississippi riverfront. First Avenue has been recognized with numerous accolades including: "Best Big Rooms" and "Best Venues in America", Rolling Stone; "Best Clubs in America", Complex Magazine; "#1 Reason to Visit Minneapolis", USA Today; among many others. Dayna is a strong advocate for the LGBTQ community, and is a firm believer in community-building through live music. She is a 2018 Henry Crown Fellow at the Aspen Institute and has two sons.

Twila R. Dang is the Founder and CEO of Matriarch Digital Media. (www.matriarchdm.com) Matriarch is a network that is the premier destination for podcasts that understand, respect, encourage and uplift women. She is also Co-Executive Producer of NewSignal Studios, an independent audio and technology company owned by American Public Media. (www.newsignalstudios.com)

Simone Xavier, a Brazilian-native and veterinarian with a PhD in Molecular Biology, was a professor at the University of Minnesota when she noticed a gap in the then-beauty market for affordable, quality makeup brushes accessible to men and women across the globe. It was then that she decided to upturn the industry by creating Sigma Beauty. Now a globally-recognized beauty company dedicated to creating unique solutions of the highest quality, Sigma Beauty is an award-winning brand and favorite among makeup artists, editors and industry influencers. As the CCO, Simone Xavier continues to push the brand to the forefront of innovation through patented brush care solutions, unique brush designs, and high-quality makeup.

Echo Huang, CFA, CFP®, CPA is a wealth manager with a remarkable life story and a passion for finance. She uses her experiences (as an immigrant from China and as an entrepreneur) to inspire more people to make smart, informed decisions that will help them achieve their dreams. After working as Senior Tax Specialist at KPMG for almost four years, she realized she enjoyed personal financial planning a lot more than preparing tax returns. As a result, she decisively changed her career path from that of a tax CPA to becoming a financial advisor in 2000. She now owns and operates Echo Wealth Management, LLC, a boutique investment management firm in Plymouth, serving successful professionals and entrepreneurs across the country. She's also proudly expanded her firm, bringing on three associate wealth managers to start expanding services to millennials.
More info to be announced soon!

Use hashtag #BumbleMinneapolis to share a story of a woman that inspires you!

Suggested ticket donation of $20 to benefit Dress for Success.

The mission of Dress for Success is to empower women to achieve economic independence by providing a network of support, professional attire and the development tools to help women thrive in work and in life.

https://twincities.dressforsuccess.org/

Thank you to our friends at WeWork for hosting. Looking for a new office space? Check out this discount code!

https://refmarketing.wework.com/sarahe/