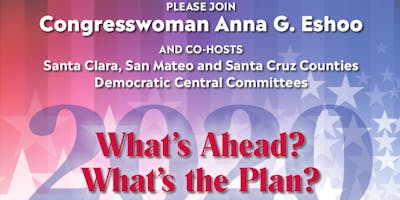 3rd Annual Activist Summit
Please join Congresswoman Anna G. Eshoo
and co-hosts
Santa Clara, San Mateo and Santa Cruz Counties Democratic Central Committees.
What's Ahead? What's the Plan?
Defend the gains of 2018. Win the Presidency.
How can you get involved? Work for a candidate? Become a delegate?
Hear from Democratic Party and Resistance Leaders.
6:00 pm - Tabling: Connect and Commit!
7:00 pm - Panel I: Organizing for 2020
8:00 pm - Panel II: From here to Milwaukee