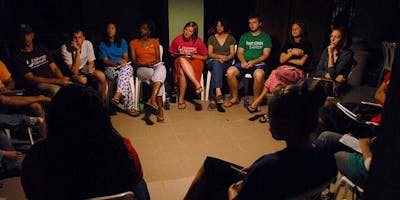 Interpersonal Integrity Workshop
Dear Fellow Residents of International House,
I so look forward to meeting with you to share our policy on Interpersonal Integrity. By now you may have received a letter of introduction to all residents.  The gatherings will be in workshop format in the Home Room, last about 2 hours (including about a ½ hour for refreshments and social conversation) and address the challenges and joys of engaging in a global community, including the criticality of respect in interpersonal relationships. Your future is bright and also global and I hope this engagement will enrich your experience of both. This is an inaugural process and so I will look forward to your evaluation of the engagement.
Please respond to this communication by selecting your preferred date (use the dropdown menu).  I would also like to note that this is an obligatory meeting and readmission to the House is predicated upon your valued participation. If you are leaving the House this year, we would like you to attend as well because we would like you to be "in the know" about all endeavors that guide and support members of International House. Most important, in keeping with tradition, we hope your leaving will be the commencement of a relationship that will be vibrant and lifelong.  We can only imagine how profoundly your gifts will impact the world.
Thank you so much for being here! 
Best, Lorraine