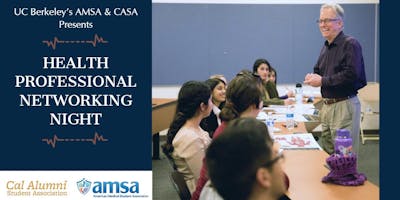 AMSA & CASA | Health Professionals Networking Night Spring 2019
The American Medical Student's Association's (AMSA) massively popular Health Professional's panel and networking night will be hosted again with the help of the Cal Alumni Student Association (CASA) on Wednesday, April 17th from 7:00-9:00PM in Alumni House. Our Health Professional's panel and networking night provides an opportunity for pre-health and pre-medicine students on campus to connect, ask questions, and network with professionals in the field of medicine and health who graduated from Cal! We will have various alumni health professionals serve as guest speakers to speak more about their journey in medicine, health advocacy, research, and more. Attendees will have the chance to meet and personally connect with the speakers after introductions.
Students should come prepared with questions and dress in business casual attire!
We invite Cal Alumni Health Professionals to fill out a Panelist Interest Form which can be found here.
For any questions or concerns, feel free to reach out to us at berkeleyamsa@gmail.com or on facebook!
Note: due to venue and logistical restrictions, we will have to cap the audience at a certain capacity, so please come early/promptly!