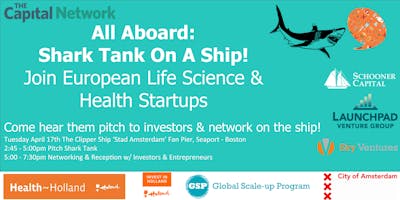 All Aboard! Shark Tank w/ European Life Science & Health Startups on The Clipper Ship 'Stad Amsterdam'!
All aboard!
Join The Capital Network, Global Scale-up & Health Holland aboard the historic Clipper ship 'Stad Amsterdam' a beautiful ship docked on Fan Pier at the Seaport in Boston! This will be an event featuring entrepreneurs and investors in the life science and health fields and give them the opportunity to connect and hear companies from Europe pitch local investors - Shark Tank Style!
2:45-5:00pm: Shark Tank! 6-8 European Health & Life Science startups will get the chance to pitch a panel of Boston investors to get feedback on their companies and pitches.
5:00-7:30pm Food & networking with investors in the Health and Life Science space. The entire program will be held aboard the historic ship Stad Amsterdam, Fan Pier, Boston, 1 Marina Park Drive, MA 02210
The Judges:
Orhan Gazelle - Schooner Capital
Tatyna Abyzov - Due Diligence Lead at Shire
Jean-Marie Vallet - Launchpad Venture Group
Raza Shaikh - Sky Ventures
Who Should Attend?
That's where YOU come in: Come and hear what these startups are building and creating, hear them pitch to a panel of investors and receive live feedback. There is something for everyone:
Investors and Economic Development Professionals
Be a mentor: Hear their pitches, offer advice and critique on how these companies can best fit in the Boston entrepreneurial ecosystem. These entrepreneurs are coming to Boston to consider this area for possible expansion. Let's show them what makes us great.
Entrepreneurs
Find out what some of the hottest European startups are doing. Mingle with local and international companies, investors, and economic development professionals. Hear what the investors have to say and see what a live pitch session with investors feels like. Bring your knowledge of the Boston life science scene and lend your insights to these up and coming international entrepreneurs to grow and better the Boston community.
The Global Scale-up Program is a unique pressure-cooker preparation program to make your venture ready for a winning product launch. The program is dedicated to ventures in life sciences and medical devices and takes place in the US and Europe.
Health Holland The Dutch Life Sciences & Health (LSH) sector is one of nine "top sectors" in the Netherlands. The top sectors are designated by the Dutch Ministry of Economic Affairs and are selected on their ability to contribute substantially to global societal challenges. Health~Holland is the Top Sector LSH's communication channel.
The Top Sector LSH entails a broad scope of disciplines, from pharmaceuticals to medtech, from healthcare infrastructure to vaccination. In order to realise its mission – vital functioning citizens in a healthy economy - the top sector builds on the strengths of the Dutch Life Sciences & Health sector to address the biggest societal challenges in prevention, cure and care: improving the quality of life (vitality) while restraining the costs of healthcare.








Tayana Abyzov


Shire Due Diligence Lead








Orhan Gazelle


Schooner Capital VC








Raza Shaikh


Sky Ventures Investor








Jean-Marie Vallet


Launchpad Venture Group Investor