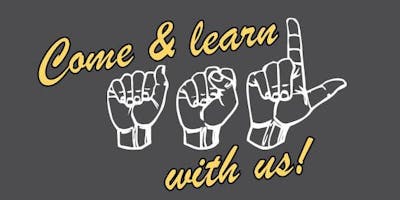 ASL Classes
*Note corrected start date change for levels 1, 3, 5 & time change for level 2 classes
---
We are thrilled you would like to learn sign language!  We have levels 1, 2, 3, 5 levels available.  If you have completed one level, then you are welcome to take the next level.  If you are not sure which level to take, feel free to call the FBC office, 978.374.7491.  It is highly recommended to have shown up at least more than half the class to go on to the next level -- in order to get the most out of learning.  Anyone is welcome to repeat their level, as well metriculating to the next level.  
Sunday ASL Level 2 class will begin on April 28th, 10:00-10:25am (Library)
Wednesday ASL Level 1, 3, 5 classes begin on April 17th (Parlor):
Level 1 - 5:00-5:30pm
Level 3 - 5:30-6:00pm
Level 5 - 6:00-6:30pm
*If you are new and haven't attended any classes yet, please call or email the office to give your information, so we can keep you updated on important class information:  978-374-7491, ext. 201 or kina@fbchaverhill.org.
Please find your class(es) above and register!  We look forward to seeing you soon!
The classes are free!