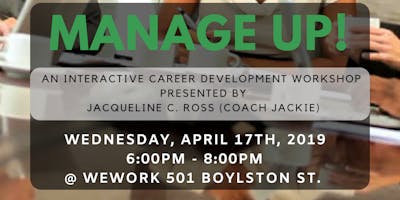 Manage Up! April 2019 NSBE Boston PDM Series
NSBE Boston Professionals invites you to "Manage Up!", our April 2019 professional development meeting presented in collaboration with
WeWork Boston
.
About the event

What strategies could you employ to manage your manager more effectively? Managing your boss is a skill you need, regardless of the relationship that you have or how effective your boss is at doing his or her job.Your professional effectiveness can be a direct result of how well you "manage up." At this event, you will find out how to tap into the strengths and talents of both you and your boss, the power of building mentoring relationships, and the impact of professional networking.

Manage Up! will help you enhance and elevate your performance and your professional standing. With the easy-to-apply tips and highly practical strategies shared in this program, you will gain mastery of important skills and increase your overall personal sense of job satisfaction and engagement.
Agenda
6pm -6:45pm – Networking/ Dinner
6:45-7:30 – Manage Up! Workshop 
7:30-8:00 – Closing/ Networking

CLICK HERE TO REGISTER!
Coach Jackie Ross will lead this powerful and interactive workshop on Managing Up!
About Coach Jackie
– Jacqueline "Coach Jackie" Ross is the author of
Manage Up! The Ultimate Guide to Managing Your Manager
. "Coach Jackie" is a certified career coach, professional speaker, and author. Coach Jackie started her professional career, 25+ years ago, in the mental health field. She transitioned into human resources and now has her own private coaching practice. Coach Jackie provides coaching to professionals in career transition and to organizational teams, so they may enhance their leadership capabilities. She is a dynamic and engaging presenter who will draw her audience in and leave them with practical tools and tips to strengthen their confidence and career tool belt.
Purchase Coach Jackie's book on Amazon –
link
Read Coach Jackie's blog –
https://www.coachjackieross.com/blog-1
Manage Up! is part of NSBE Boston's monthly Professional Development Meeting (PDM) series. If you are interested in participating in future events as a host sponsor or guest speaker, please contact NSBE Boston VP, Seun Oluwole – VP@nsbeboston.org