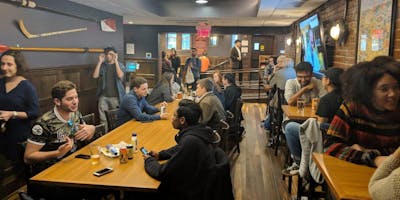 CS Seniors BU Pub Takeover
#BU2019 CS majors are taking over the BU Pub on April 17th! With graduation just a month away, come celebrate your hard work over the past four years. We'll have free apps, fun activities, and a special appearance by a ~mystery guest~!
BU Giving Day (April 3rd) is a great way to show your appreciation for the CS Department! Giving Day donations help our department increase experiential learning opportunities, diversity and inclusion activities, and summer programs that are targeted towards young women interested in STEM, specifically computer science. Donors will also receive a FREE DRINK TICKET at check in (minimum $5 donation)! Give here on April 3rd: https://givingday.bu.edu/campaigns/computer-science-department. 
Congratulations grads — let's toast to the next chapter!